Home
HAXHIU FINED € 7,000
The Trial Chamber concludes that Kosovo journalist Baton Haxhiu knew that the disclosure of a protected witness's name to the public is a violation of an order issued by the Tribunal. He was found guilty of contempt of court and was fined €7,000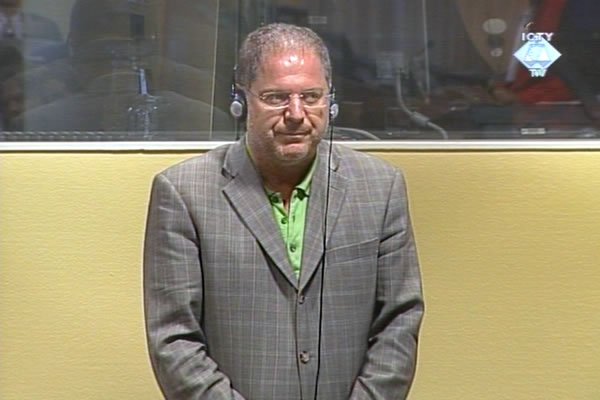 Baton Haxhiu in the courtroom
Baton Haxhiu, a journalist from Kosovo, was found guilty today of contempt of court after he published the name of a protected witness who testified under full protective measures at the trial of three former KLA commanders, Ramush Haradinaj, Lahi Brahimaj and Idriz Balaj. He was fined €7,000 and must pay the fine within 30 days.
At his trial on 24 June 2008, Haxhiu said that a 'selected group of persons in Kosovo knew the identity of the witness'. He said that he published the witness's name 'to protect him since the Tribunal failed to do it'.
Finding the accused guilty, the Trial Chamber noted that 'individuals, including journalists, cannot decide to publish information contrary to the orders on protective measures based on their assessment whether such information is in the public interest'. The Trial Chamber 'is convinced beyond reasonable doubt that Haxhiu knew that an order of the Trial Chamber was violated', said the judges in the summary of the judgment. The Trial Chamber notes that 'a violation of the order undermines the confidence in the efficiency of the court dissuading the witnesses from cooperating with the court'.
The Trial Chamber took into consideration the fact that the witness's identity was not the main topic of the article Haxhiu wrote and the fact that the newspapers that ran the article sell in only 5,000 copies. Haxhiu's cooperation with the prosecution and his testimony at the trial of Slobodan Milosevic and in the case of Milan Milutinovic and five other Serbian officials charged with crimes in Kosovo in 1999 were also taken into account in mitigation.
Haxhiu was not present when the judgment was read. In deciding the sentence, the Trial Chamber took into account the fact that the accused journalist had spent five days in the Tribunal's Detention Unit after his arrest and transfer to The Hague in May 2008.