Home
LJUBOTEN: ABUSE OF AUTHORITY AND SADISTIC MOTIVE
In the closing argument at the trial of the Ljuboten case, the prosecution calls for a sentence of twelve years in prison for Ljube Boskoski and fifteen years for Johan Tarculovski. The crime in Ljuboten is an example of 'abuse of authority and sadistic motive', the prosecution contends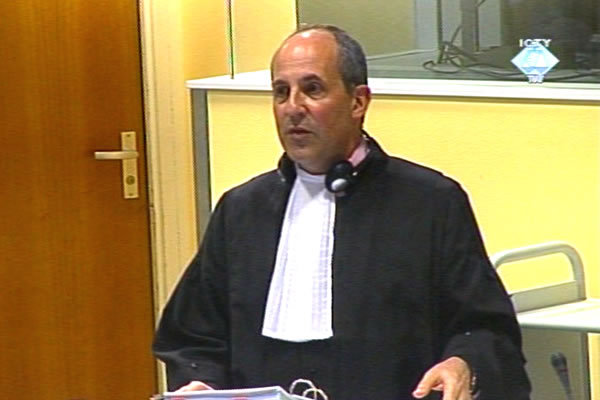 Daniel Saxon, prosecutor in the Tribunal
As the trial for crimes in the village of Ljuboten on 12 August 2001 draws to a close, the prosecution today called for twelve years in prison for Ljube Boskoski, former Macedonian interior minister, and fifteen years for Johan Tarculovski, who commanded the forces that attacked the village.
The prosecutor charged Boskoski on the basis of command responsibility with failure to investigate and punish the killing of seven Macedonian Albanians, burning of fourteen houses and cruel treatment of at least thirty six Ljuboten villagers. Johan Tarculovski is charged with participation in the joint criminal enterprise aimed at launching an unlawful attack on civilians and civilian facilities in the village of Ljuboten. The attack wasn't justified by military necessity. Tarculovski ordered, planned, and aided and abetted the perpetration of these crimes, the prosecutor said.
The way in which the crimes were committed, the prosecutor emphasized, 'point to a sadistic motive of the perpetrators'. Victims were forced to sing Macedonian nationalist songs and to glorify Zeljko Raznatovic Arkan, notorious for the crimes in Croatia and BH. One victim had an Orthodox cross carved onto his back. As alleged by the prosecution, the police wanted these crimes and that is why they committed them.
The crimes the two accused are responsible for are 'grave in themselves', the prosecutor contended, but the fact that Boskoski abused his authority as the interior minister made them even graver. The prosecution alleged that Boskoski had de iure and de facto control over the direct perpetrators of the crimes. He was aware that they were preparing to commit crimes and when they did so, Boskoski failed to punish them for what they had done.
Murder, wanton destruction of the village of Ljuboten and cruel treatment of its inhabitants were committed within the framework of an armed conflict between the Macedonian security forces and the NLA, National Liberation Army of the Macedonian Albanians, the prosecution noted. The prosecution believes it has called 'relevant and reliable evidence' to prove that the ONA was an 'organized armed group'.
Tomorrow, the Trial Chamber will hear the closing argument of the defense of the two accused.