Home
INTERNAL CONFLICT, NOT ARMED CONFLICT
Expert witness called by Johan Tarculovski's defense contests the existence of armed conflict between the National Liberation Army of the Macedonian Albanians and the security forces in 2001 in Macedonia. Blagoja Markovski contends that this was an 'internal conflict', a consequence of 'terrorist and separatist tendencies' of armed individuals and groups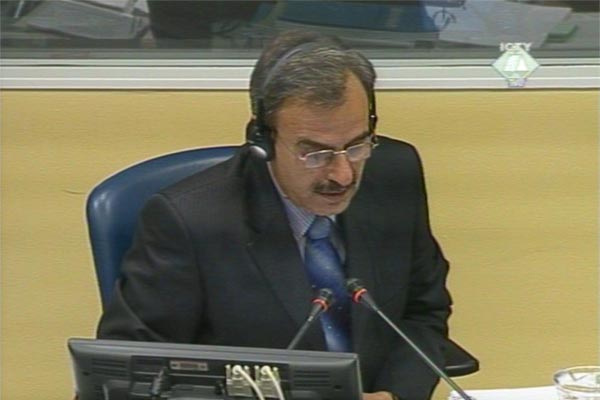 Blagoja Markovski, defense witness for Johan Tarculovski
Colonel Blagoja Markovski was commissioned by Johan Tarculovski's defense to draft an expert report analyzing the security situation in Macedonia in 2001 and the role of the army and the police in the conflict with the National Liberation Army of Macedonian Albanians. In 2001, Markovski was first a spokesman for the Macedonian Army. In November 2001, he was appointed the spokesperson for the Defense Ministry.
According to Markovski, the conflict in Macedonia in 2001 did not posses features of an 'armed conflict'. In his report, he classified it as an 'internal conflict arising from terrorist and separatist tendencies and activities undertaken in collaboration with armed individuals and groups from neighboring countries and with their support'. Johan Tarculovski's defense contests the existence of armed conflict in Macedonia and consequently the jurisdiction of the Tribunal in this case.
The defense spent a significant part of the expert's examination-in chief discussing the issues of jurisdiction and knowledge of the then Macedonian president Boris Trajkovski. The Macedonian president 'had accurate information about the security in the region', Markovski claims: in fact, Trajkovski ordered the operation in the village of Ljuboten on 12 August 2001. Tarculovski and former Macedonian interior minister Boskoski are charged with this attack. Seven Macedonian Albanians were killed in the attack, fourteen houses were burnt down and about a hundred villagers were subject to psychological and physical violence.
Markovski noted that the operation launched by the Macedonian security forces in the village of Ljuboten was 'a legitimate attack against a group of armed Albanians hiding in the village'. Considering the 'importance Ljuboten had for the terrorists and the threat to the security of the Skopje region' Markovski concluded that the Macedonian security forces had to 'eliminate the threat'.
Blagoje Markovski continues his evidence tomorrow when he will be cross-examined by the prosecutor.