Home
BOSKOSKI AND TARCULOVSKI TRIAL: DEFENCE CALLS FOR ACQUITTAL
In the closing arguments at the trial for the murder of seven Macedonian Albanians, burning of fourteen houses and cruel treatment of some hundred villagers of Ljuboten, the defense counsel of Ljube Boskoski and Johan Tarculovski call for their acquittal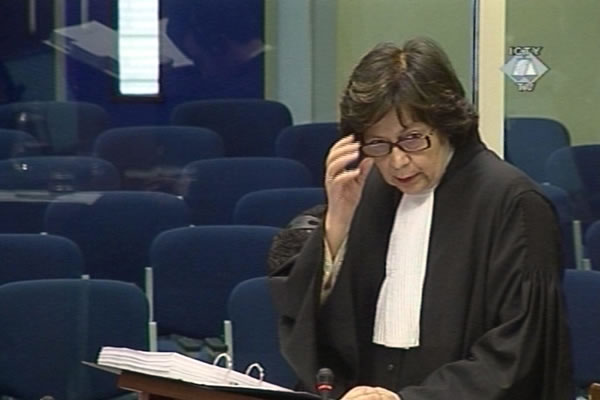 Edina Residovic
'The only proposal of the defense is to acquit Ljube Boskoski on all counts in the indictment, in light of the evidence presented in court,' said Edina Residovic at the end of her closing argument. The defense counsel representing -Johan Tarculovski, indicted together with Boskoski for the attack on Ljuboten 12 August 2001, also called for his client to be acquitted.
Boskoski's defense claims that the prosecution managed to prove only two things: that the accused was the interior minister in 2001 and that he performed his job in accordance with the law. Nothing else was proven, defense counsel Mettraux said, least of all the link between Boskoski and direct perpetrators of crimes in Ljuboten.
Boskoski, charged on the basis of command responsibility, did not have 'any authority or control over the group of people that had been put together to carry out the operation on the orders of Boris Trajkovski, the Macedonian president', the defense counsel said, adding that there is no evidence to show that members of that group were actually members of the Macedonian MUP.
Noting that the prosecution was 'not only knocking at the wrong door – it is in front of a wrong house in a wrong neighborhood', the defense went on to say that Boskoski was charged with failure to investigate the crimes and punish the perpetrators. In the actual fact, he did not have the authority to do so. Residovic explained that the investigation was in the hands of the judicial organs, and that Boskoski, in an effort to determine what had really happened in Ljuboten, did more than he was duty-bound to do – he established a commission charged with investigating the events, sought help from the international organizations and suggested that the bodies of the seven victims killed in Ljuboten be exhumed.
[IMAGE]3402[/IMAGE]According to Tarculovski's defense, 'there is no evidence that the accused commanded the unit that attacked Ljuboten, no evidence that he issued any orders and had any control over the operation in the village'. Tarculovski's role – entrusted to him by the Macedonian president, as the defense contends – was to 'monitor the situation', not to aid and abet the operation in Ljuboten, defense counsel Apostolski claims. He believes that the prosecution failed to prove Tarculovski's intent to commit the crimes and his participation in the joint criminal enterprise aimed at launching an unlawful attack on civilians and civilian buildings in Ljuboten.
Apostolski urged the Chamber to 'evaluate the evidence objectively and to determine whether any crimes were committed in Ljuboten'. The defense claims the attack on Ljuboten was in fact a legitimate operation launched by the security forces against the National Liberation Army of Macedonian Albanians who were hiding in the village, intending to attack Skopje. Tarculovski did not commit any crimes; to acquit him would be the only just course, his defense contends.
Yesterday, the prosecution called for twelve years in prison for Boskoski and fifteen for Tarculovski.