Home
EVIDENCE COMPLETED AT LJUBOTEN TRIAL
With the testimony of the last witness called by Johan Tarculovski's defense, all the evidence is now in at the trial for the crimes Macedonian security forces committed in the village of Ljuboten on 12 August 2001. Closing arguments are scheduled for the first week in May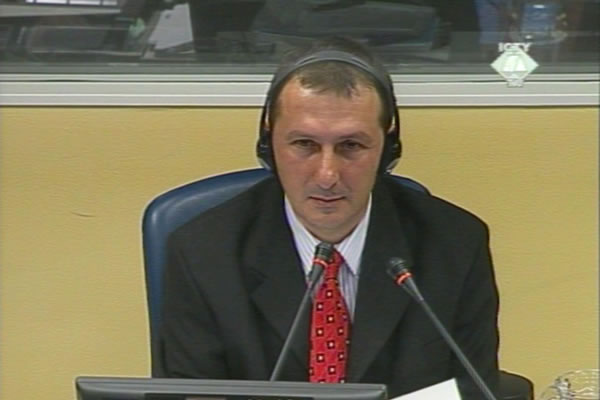 Igor Dimovski, last defense witness for Johan Tarculovski
The testimony of Igor Dimovski, the last witness called by Johan Tarculovski, marked the end of the defense case at the trial for the crimes committed by the Macedonian security forces in the village of Ljuboten. Dimovski was asked by Tarculovski's defense to check the dates when German journalist Franz Josef Hutsch actually spent in Macedonian territory.
In the prosecution case, Hutsch claimed that on 12 August 2001, the date when the attack on Ljuboten occurred, he saw the police units enter the village, the bodies of the villagers killed in the attack and the beating of some thirty Macedonian Albanians at a police check-point. He claimed he saw Johan Tarculovski in Ljuboten that day, and then later on, in the evening of the same day, he saw Ljube Boskoski in Skopje.
According to the records in the Macedonian Interior Ministry data base, Hutsch was not in Macedonia on 12 August. Dimovski had access to those records. In the cross-examination, the prosecutor noted that the computer system used in 2001 to enter and record data about people entering and leaving the country was 'not perfect', adding that 'mistakes were possible'.
[IMAGE]3304[/IMAGE]Since the prosecution indicated it would not call any rebuttal evidence, the Chamber formally closed this stage in the proceedings against former Macedonian interior minister Ljube Boskoski and his co-accused Johan Tarculovski, who commanded the active and reserve police used in the attack on Ljuboten, according to the indictment.
The trial for the murder of seven civilians, destruction of fourteen houses and police torture of about a hundred Albanian villagers started on 16 April 2007. The prosecution and defense called a total of 64 witnesses, and over 1,000 exhibits were admitted into evidence. The Trial Chamber has ordered the parties to submit their final briefs by 24 April, and to present their closing arguments from 6 to 9 May 2008.