Home
WHO 'COMMISSIONED OR ORDERED' THE ASSASSINATION OF RATKO MLADIC IN 1995?
According to the military expert of his defense, in the spring and summer of 1995 Colonel Vujadin Popovic was person in charge of Operation Juda, whose objective was to protect Ratko Mladic from the assassination 'commissioned or ordered' by somebody from Republika Srpska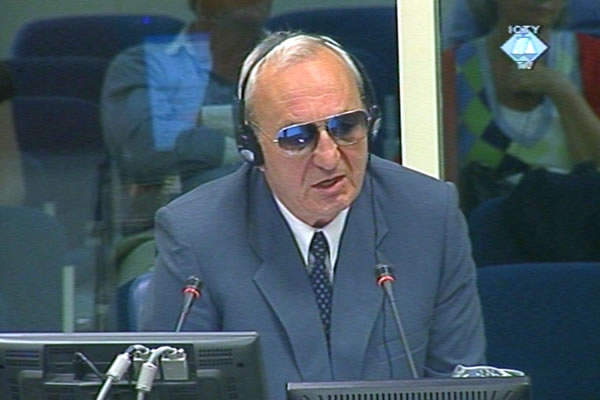 Petar Vuga, defence witness of Vujadin Popovic
In his expert report drafted for the defense of Vujadin Popovic, retired JNA and VJ colonel Petar Vuga says that in the spring of 1995 the VRS military intelligence had reports that the assassination of general Ratko Mladic and Zdravko Tolimir was 'commissioned or ordered' by somebody from Republika Srpska. In Vuga's opinion, Popovic, as the chief of security in the Drina Corps, was the person in charge of the Operation Juda, whose objective was to protect Mladic and Tolimir.
This is how the military expert explained why Popovic was present among the senior VRS officers who entered Srebrenica on 11 July 1995 together with Mladic. The next day, Popovic attended Mladic's meeting with members of the UN Dutch Battalion and representatives of Bosniak refugees in Potocari. According to Vuga, Popovic was not a member of the delegation at the meeting. He was there only because he had to be 'directly involved in the area or a building where Mladic was whenever there was a risk of an attempt on Mladic's life'. Vuga didn't clarify who was a threat to Mladic's life at that meeting: Dutch colonel Karemans, the three unwilling and terrified refugee representatives from Potocari or maybe Miroslav Deronjic, Karadzic's 'civil commissioner' for Srebrenica.
According to prosecution witnesses, the VRS security officers, including Popovic, were present at locations where Bosniaks captured after the fall of the enclave were detained and executed. In his cross-examination, the prosecutor asked the defense expert whether, in security terms, this was the 'most important task' of Vujadin Popovic, Ljubisa Beara, security chief in the Drina Corps and Drago Nikolic, security chief in the Zvornik Brigade. One of the possible reasons, Vuga said, was a 'serious risk' of Muslim forces attempting to free the prisoners, arm them and endanger the VRS troops. However, he emphasized that he didn't have sufficient data to make a serious expert assessment. As he put it, the security officers were trained to prioritize tasks on the spot.
The defense of Vujadin Popovic rested after the testimony of Petar Vuga. Popovic is the first accused among the Srebrenica Seven, the Bosnian Serb military and police officers on trial for the crimes in Srebrenica and Zepa. The trial continues on Thursday: Ljubisa Beara, former security chief in the VRS Main Staff will begin his case.