Home
COMMAND OR 'PROFESSIONAL CONTROL'
In their examination of military expert Petar Vuga, the defense counsel of Vujadin Popovic, Ljubisa Beara and Drago Nikolic, the three security officers among the Srebrenica Seven attempted to challenge the prosecution argument that the accused security officers coordinated and supervised the operations in which more than 7,000 Bosniaks were captured, detained and executed in July 1995 after the fall of the Srebrenica enclave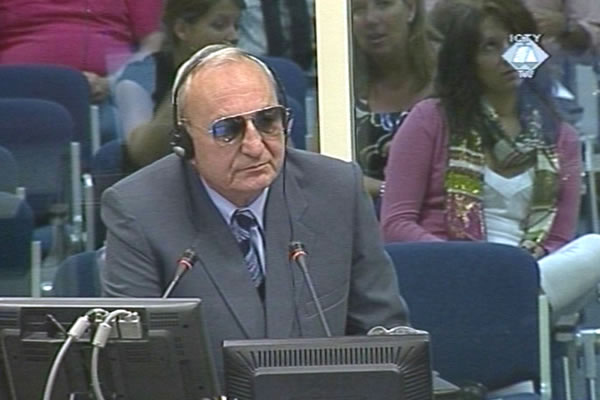 Petar Vuga, defence witness of Vujadin Popovic
There was no parallel chain of command in the VRS. The principle of singleness of command was observed, but there was also a 'professional line of control', established to protect the military through security officers and bodies. This was how retired colonel Petar Vuga explained the position of security officers in the VRS line of command as he continued his evidence today at the trial of Bosnian Serb military and police officers indicted for crimes in Srebrenica and Zepa. Vuga was called to The Hague to testify as an expert for the defense of Vujadin Popovic. In the summer of 1995, Popovic was security chief in the Drina Corps.
Vuga repeated that in the VRS security officers exercised control 'in professional terms, but had no command authority'. According to him, they were not authorized to use the military police without prior permission of the command of the unit they belonged to. Military police was given tasks related to the prisoners of war by the command in charge, while the security officers' role was to 'provide professional supervision and instruction', the defense military expert clarified.
Two other former security officers are in the dock together with Vujadin Popovic. Ljubisa Beara was security chief in the VRS General Staff while Drago Nikolic held the same post in the Zvornik Brigade. Their defense counsel also tried to refute the prosecution argument that the security bodies were in charge of coordinating and supervising the operation to capture, detain and execute 7,000 Bosniaks after the fall of Srebrenica in July 1995.
In the cross-examination of the military expert, Vinko Pandurevic's defense counsel noted that security bodies had 'some independence of action' in the VRS. British attorney Peter Hayens referred to the rules of service the VRS had taken over from the JNA. According to the rules, the unit commanders had no authority over counter-intelligence officers operating within security bodies.
The expert agreed that security officers enjoyed some independence in their actions but only 'to choose the best source of information significant for security as well as to choose appropriate methods to obtain such information'. In all other areas of their service, security officers received orders from the commander of their unit. Thus, the witness clarified, Vinko Pandurevic as the commander issued orders to Drago Nikolic, who was security officer.
The military expert called by Vujadin Popovic's defense will continue his evidence on Monday when he is to be cross-examined by the prosecutor.