Home
HOW DID SREBRENICA VICTIMS DIE?
Through the evidence of a Belgrade forensic medicine expert, the defense of the Srebrenica Seven wants to show that most of the victims whose remains were exhumed from the mass graves in the Srebrenica area had died in the fighting with the Serb troops. The defense contests the prosecution allegation that they were killed in organized mass executions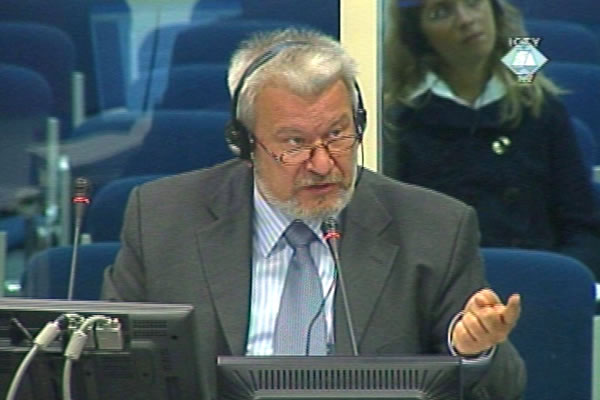 Dusan Dunjic, defence witness of Vujadin Popovic Ljubisa Beara, Drago Nikolic and Ljubomir Borovcanin
Dusan Dunjic, defense forensic medicine expert, today added new examples of 'inconsistent and arbitrary' conclusions made by the prosecution forensic experts who analyzed bodies exhumed from Srebrenica mass graves.
In his expert report, Belgrade professor Dunjic analyzed a number of autopsy reports of Srebrenica victims drafted by the prosecution experts. According to Dunjic, although the reports are 'incomplete and superficial', they contain data that do not rule out the possibility that the victims were killed in combat and not in mass executions. He mentioned details such as 'scorched' body parts in some of the exhumed bodies; in his opinion, this means that such victims might have died in an explosion.
It was impossible to determine the cause of death for most of the victims whose autopsy reports he had studied, Dunjic repeated, saying that in their reports, the prosecution experts did not merely state the cause of death but added their judgment that those cases were 'murders'. In Dunjic's view, such a conclusion is a legal category 'a court should rule on' since it goes beyond the boundaries of forensic expertise.
Dunjic agreed with the defense argument that the reports he analyzed indicate that the prosecutor might have influence the wording of some of the conclusions reached by the prosecution forensic team about the cause and manner of death. The defense pointed to cases where autopsy reports were modified at a later date and cases where the clothes removed from the exhumed bodies were not preserved. The witness considers this practice as completely 'unacceptable'.
Dusan Dunjic, professor of forensic medicine from Belgrade, was called by the defense teams of Vujadin Popovic, Ljubisa Beara, Drago Nikolic and Ljubomir Borovcanin. His evidence continues tomorrow.