Home
MOSQUES AND WATER TOWERS WERE A 'SECURITY THREAT'
At the trial of seven Bosnian Serb military and police officers, prosecution used VRS documents to demonstrate how incidents were staged to show there were 'threats' to the security of the Serb population and the army in the Srebrenica area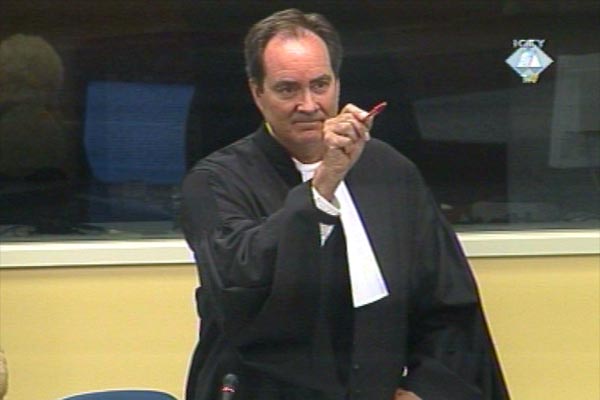 Peter McCloskey, prosecutor in the Tribunal
In his expert report drafted at the request of the Vujadin Popovic defense, retired VJ colonel Petar Vuga makes frequent reference to VRS documents about 'sabotage and terrorist actions' of the BH Army 28th Division. The raids launched by the brigade troops from the Srebrenica enclave constituted a threat to the security of Serb population and provoked the Serb forces in the encirclement.
In his cross-examination today, prosecutor Peter McCloskey showed the witness several VRS documents he did not analyze in his report. First the prosecutor quoted from an order issued by Ratko Mladic in November 1992. The troops are ordered to 'exhaust the enemy and force them to leave the Zepa, Birac and Gorazde area together with the Muslim population'. When the prosecutor asked if the women, children and elderly posed a 'security threat' to the VRS, Vuga first replied that the problem was caused by Muslim civilians following in the wake of military units in order to loot, but finally he admitted that the women, children and old men 'were not a security issue'.
The prosecutor then asked if mosques were also a 'security threat' to the VRS, since many mosques in the area were destroyed after the fighting ended and after the Muslim civilians left. Vuga replied that 'mosques, churches and religious buildings are not military targets and pose no security threat'.
The prosecutor then addressed the issue of water towers. First he showed the witness a document from the Drina Corps dated 31 May 1993. The order reminds the commander of the First Tactical Group of the order issued by commander Milenko Zivanovic to blow up the water tower in Zeleni Jadar but to make it look 'as if the Muslims destroyed it'. In his reply, Vuga said that he could not say whether the water tower represented a threat for the security of the VRS.
The prosecutor then showed another document of the Drina Corps, dated 21 June 1993 where Zivanovic asks for intelligence on the 'Muslim sabotage terrorist group that destroyed the water tower in Zeleni Jadar' in order to report this 'act of vandalism' to UNPROFOR.
The witness replied that he could not tell why Zivanovic first ordered the water tower to be destroyed and then asked for the intelligence about the 'sabotage terrorist group' that allegedly did it. 'Obviously he wanted to achieve something, but I don't know his objective and intentions', Vuga said. He also had no answer when the prosecutor asked him if as a defense military expert he could be sure that the events he analyzed were not 'staged', as was the case with the water tower in Zeleni Jadar. In his report the witness referred to the VRS documents about 'sabotage terrorist' actions launched by the Muslim forces in the Srebrenica area.
The prosecution will complete the cross-examination of Petar Vuga tomorrow.