Home
WITNESS WITH POOR MEMORY
Former driver in the Zvornik Brigade testifying at the Srebrenica Seven trial couldn't remember today why he drove a truck to some of the mass execution sites on 15, 16 and 17 July 1995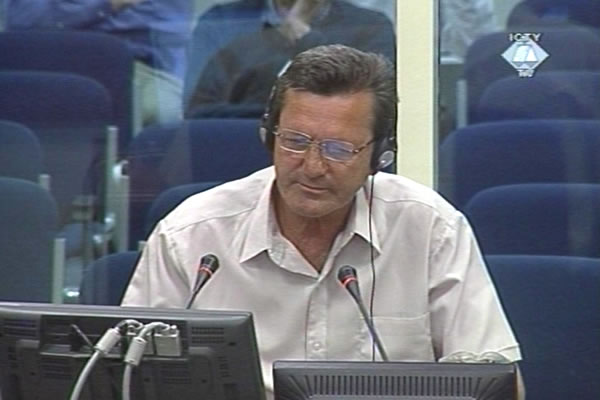 Branko Bogicevic, defence witness of Vujadin Popovic
The entry for 16 July 1995 in the duty officer logbook indicates that Lieutenant Colonel Popovic called at 1400 hours, requesting urgent delivery of 500 litres of diesel to the village of Pilica; unless he gets the fuel, he says, he will 'have to stop working'. Popovic's call was intercepted and recorded by the BH Army intelligence service. On the same day, at 1900 hours, it intercepted another conversation in which Popovic reports that the 'problem with fuel was solved'. In addition to the logbooks and transcripts of intercepted conversations, the prosecution is in possession of a work order issued to the driver of the Zvornik Brigade on 16 July 1995. This work order specifies that the fuel is meant for 'Lieutenant Colonel Popovic'.
The defense of Vujadin Popovic, chief of security in the Drina Corps, called Bogdan Bogicevic to the witness stand today. Bogicevic is the driver of the Zvornik Brigade who drove 500 liters of diesel fuel to the village of Pilica. Bogicevic doesn't remember who ordered him to drive there, where he took the fuel, where exactly he had to deliver it and to whom. He was told to drive 'from Pilica towards Bijeljina'. When he reached a bridge, the witness recounted, he was met by a group of soldiers he didn't know. He couldn't remember what uniforms they wore. They transferred the fuel from the barrel to jerry cans. He couldn't remember if they gave him a receipt for the fuel they took and whether there was an officer somewhere nearby. The witness contends he didn't know Popovic then and that he doesn't know him now. He couldn't remember who wrote on his work order that the fuel was meant 'for Lieutenant Colonel Popovic'. He paid no attention to that, because he focused only on the numbers in the order.
In his cross-examination the prosecutor tried to refresh witness's memory by showing him work orders issued for 15 and 17 July. According to the order, Bogicevic drove a truck on 15 July from Zvornik to Orahovac but today he couldn't remember what was on the truck. 'Most likely it was food and personnel', he said today. The witness claims that he doesn't know what happened on 13 and 14 July in Orahovac where, as alleged in the indictment, more than a thousand prisoners were held in a local school. They were then executed in a nearby field. Although he was passing by, Bogicevic contends he didn't see anything.
According to the work order, on 17 July Bogicevic drove once again to Pilica but again he couldn't remember why he went there. He claims that he was 'probably driving soldiers'. According to the prosecution case, the bodies of 500 to 550 Bosniaks were taken from the Culture Hall on that day and loaded onto trucks, which then took them to a mass grave at a nearby farm in Branjevo. Bogicevic admitted he had passed by the Culture Hall but claims he saw neither the bodies nor the trucks.
The only thing the prosecutor could get from the witness was his admission that before he was mobilized into the VRS in July 1992 he used to drive Drinatrans buses packed with Muslim civilians from Zvornik and surrounding villages to be 'exchanged'. He remembered this only after the prosecutor refreshed his memory, reminding him that he had discussed this with Bosko Milic.
After Bogicevic completed his evidence, Vujadin Popovic's defense called Zoran Jovanovic as its next witness. In July 1995, Jovanovic served as a staff officer in the VRS Zvornik Brigade. He will continue his evidence tomorrow.