Home
AKMADZIC: 'ARGUMENT OF FORCE INSTEAD OF FORCE OF ARGUMENT'
Prime minister in the wartime BH government Mile Akmadzic accused Izetbegovic and the BH Army of 'aggression' against the Croat population in the Travnik area in April 1993 and in other places in Central Bosnia; the goal was to get hold of the defense industry plants there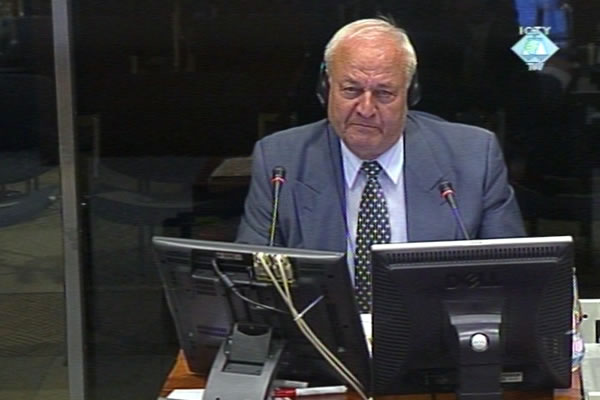 Mile Akmadzic, defence witness of Jadranko Prlic
Mile Akmadzic, prime minister of the wartime BH government, continues his evidence in the defense of Jadranko Prlic. Akmadzic recounted a conversation he had with Alija Izetbegovic in December 1992 when the then president of the BH presidency explained to him why he didn't step down when his second term of office expired; an ethnic Croat was supposed to take over the post from him. Izetbegovic reminded him that the Constitution envisaged the extension of the term of office in wartime, adding that the army – BH Army – 'asked him not to step down'.
The witness also recounted how he had asked Izetbegovic to allow General Milivoj Petkovic, chief of the HVO Main Staff, to attend the meetings of the BH presidency together with the commander of the BH Army, Sefer Halilovic. His requests were ignored, the witness noted, despite the fact that the HVO was considered a constituent part of the BH armed forces. Akmadzic added that he didn't believe the army pressured Izetbegovic. However, he could easily imagine a situation in which Halilovic said 'President, do not let go of the president's post'.
According to Akmadzic, Izetbegovic enjoyed strong support of the BH Army and constantly obstructed the implementation of peace plans that had been accepted. In actual fact, his strategy was 'the argument of force instead of the force of argument'. In other words, Akmadzic accused Izetbegovic and the BH Army of 'aggression' against the Croat population in the Travnik area in April 1993 that continued later with systematic attacks on Vitez, Fojnica, Kakanj, Vares and other places in Central Bosnia and Herzegovina. In his view, the goal of the BH Army was to 'get hold of the defense industry plants located there'.
At one point during his evidence Akmadzic said that the HVO was the only armed force fighting for a united and indivisible BH. Akmadzic blames the failure of the Vance-Owen peace plan on Izetbegovic and the Muslim members in the BH presidency. After the plan failed, Croats had no other option but to accept everything that was tabled. In Akmadzic's words, despite their ostensible equal status, Croats accounted for only 17.5% of the population in BH and were not strong enough to overpower 82% of Muslims and Serbs.
Akmadzic continues his evidence tomorrow; he will be cross-examined by the prosecution. According to the prosecution, the HVO launched attacks against the BH Army positions to implement the Vance-Owen peace plan by force. As the prosecutor alleges, the Croats misinterpreted the plan, believing that Croats should have full control of the provinces in the Herceg Bosna territory.