Home
CONFLICT OF EXTREMISTS, NOT NATIONS
Zdravko Sancevic, Croatian ambassador to Venezuela, is testifying in the defense of Jadranko Prlic, former Herceg Bosna prime minister. Sancevic says the Croat-Muslim conflict in BH in 1993 should be regarded as a conflict of extremist Croat and Muslim groups and not as a conflict of all Croats and all Muslims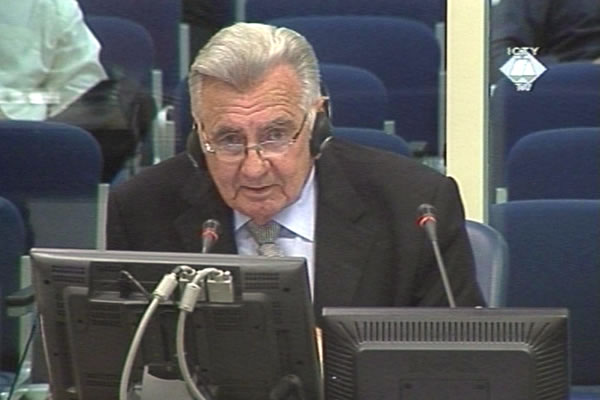 Zdravko Sancevic, defence witness of Jadranko Prlic
The Croat-Muslim conflict in 1993 should not be considered as a conflict of all Croats and all Muslims in BH. According to Zdravko Sancevic, Croatian ambassador to Venezuela, it should be seen as a conflict of the extremists belonging to both ethnic communities. Testifying as a witness in the defense of former Herceg Bosna prime minister Jadranko Prlic, Sancevic mentioned Tuzla, Orasje, Usora and Zepce as examples of good cooperation between the two ethnic groups during the war.
From December 1992 to early 1996, Sancevic was Croatian ambassador to BH. In the first part of his examination-in chief he recounted how Alija Izetbegovic, former president of the BH presidency, talked him out of opening the Croatian embassy in Sarajevo when he assumed his duty as ambassador. Quoting security reasons, Izetbegovic advised him to open the Croatian embassy in Zenica. In the end, Sancevic explained, he chose Medjugorje in Herzegovina as it was 'safer, closer to Croatia and on the route all humanitarian convoys took as they headed for BH'. The fact that he is of Bosnian origin was a major factor in his appointment as the ambassador, he noted in particular; this fact was brought up by Tudjman whenever he talked to BH officials.
The misrepresentation of the conflict was not the only mistake the witness noted: he brought up another 'major mistake' related to the interpretation of the term 'division', which appears often in documents exhibited in the course of the trial. What the authors do not clarify, the witness says, is whether they mean 'internal' or 'external' division: it is therefore not clear whether the documents refer to the internal restructuring or violations of the territorial integrity of the state.
The witness went on to say that between 19 and 22 May 1993 he visited East Mostar as part of the Croatian-Turkish goodwill mission. The former commander of the BH Army 4th Corps Arif Pasalic prohibited them from moving into the BH territory, saying it was his 'goal to take Mostar and then the whole of Herzegovina, all the way down to the sea', the witness recounted. This was to create conditions for 'the disembarkation of the Mujahideen from all over the world, and in particular from the extremist Muslim countries'. This effectively put an end to the goodwill mission. On their way back to West Mostar, they took with them a group of Croats who had been 'beaten and tortured' by the Muslims in East Mostar.
Ambassador Sancevic will continue his evidence tomorrow.