Home
'GREATEST SET-UP' FOR THE CROATIAN NATION
Adalbert Rebic, former head of the Croatian Government Office for Displaced Persons and Refugees testifying in the defense of Jadranko Prlic, former Herceg Bosna prime minister, believes the accusations levied against the former Croatian leadership of ethnic cleansing of the Muslims from BH are 'the greatest set-up for the Croatian nation'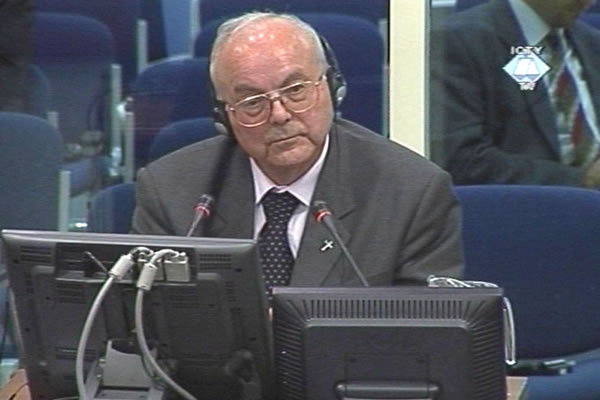 Adalbert Rebic, defence witness of Jadranko Prlic
'By no means could it be said that Croatia ethnically cleansed anyone', said Adalbert Rebic, former head of the Croatian Office for Displaced Persons and Refugees, testifying in The Hague as Jadranko Prlic's defense witness. In reply to questions about the parts of the indictment alleging that the office he headed from 1991 to 1995 aided the ethnic cleansing of Muslims from parts of BH, the witness noted that this was 'the greatest set-up for the Croatian nation'.
According to Rebic, an eminent Zagreb professor of theology, former Croatian president Franjo Tudjman considered the idea restoring the 1939 Croatian Banovina from a 'historical point of view'. Tudjman rejected it in the moment when BH became an internationally recognized country. In Rebic's opinion, after that, the Croatian president was interested only in ensuring the survival of the Croats in parts of BH where they had lived for centuries before the war.
Muslim refugees arrived in Croatia mostly from eastern and central Bosnia and Herzegovina and from eastern Herzegovina. There were no Muslim refugees from western Herzgegovina, Rebic said, as Croats made up 96 percent of the population there before the war. Presiding judge Antonetti then told the witness that the former Bosnian Croat leaders were on trial because of the ethnic cleansing of Muslims from Capljina and other places in western Herzegovina, asking Rebic if he would stick to his claims about the percentage of Croats living there. Rebic replied he couldn't understand 'what kind of ethnic cleansing this is supposed to be at all'.
As his former deputy Damir Zoric who gave evidence last week, Professor Rebic denied the parts of indictment alleging the bad treatment of Muslim refugees in refugee camps on the island of Obonjan and in Gasinci. Professor Rebic contends that he 'cooperated well' with Azra Krajisek, head of the BH Government Office for Refugees in Zagreb during the Croat-Muslim conflict. Krajisek testified for the prosecution claiming the opposite was the case. Rebic added that 'from some reason' Krajisek was obsessed only with those two refugee camps while she was 'not much interested in others'. The claims by the refugees that the conditions in the camps were bad should be viewed in light of their mental state and vulnerability at the time, Rebic explained. 'A refugee is a refugee, not happy even if you put them up in a hotel for free', Rebic thinks.
Professor Rebic will continue his evidence tomorrow.