Home
SPEAK NO EVIL OF THE DEAD
In his cross-examination by the prosecution, Jadranko Prlic's defense witness says the late Croatian president Franjo Tudjman was not obsessed with the division of BH and its annexation to Croatia despite what Drazen Budisa was saying during the Croat-Muslim conflict in BH. At that time, the witness was in Budisa's party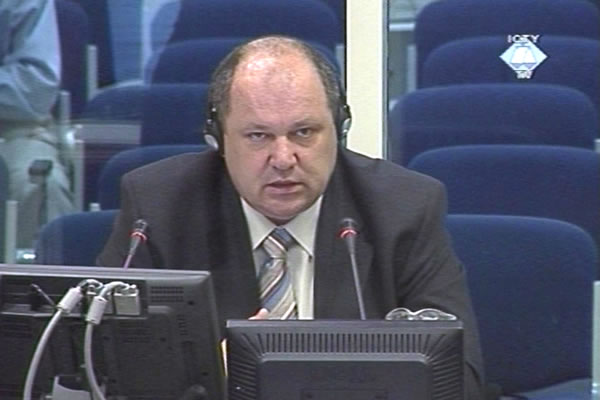 Damir Zoric, defence witness of Jadranko Prlic
'Franjo Tudjman was not obsessed with the division of BH and its annexation to Croatia', says Damir Zoric, former deputy head of the Croatian Government Office for Displaced Persons and Refugees, in his cross-examination by the prosecution. Testifying in the defense of Jadranko Prlic, Zoric asserted that the BH policy pursued by the former Croatian president didn't contain any plans about creating a Greater Croatia within the boundaries of the Banovina from 1939.
Prosecutor Kenneth Smith showed the witness several interviews published in the Croatian press during the Croat-Muslim conflict in BH in which opposition leaders criticize Tudjman for advocating 'the policy of dividing BH'. Drazen Budisa, the then president of the Croatian Social Liberal Party gave an interview to magazine Globus, saying the Croatian president was 'held captive by the concept of the remodeling of the former Yugoslavia'; it was his intention to unite the territories where ethnic Croats lived. The prosecutor reminded the witness of the fact that he was a member of this party at the time this interview was published.
'These are nothing but claims of one man', the witness said, noting that he was 'parted ways politically' with the HSLS precisely because he didn't share those views of his party leader. In 1995, he joined the Croatian Democratic Union. The witness didn't agree with the prosecutor's allegation that in 1993 and 1994 Tudjman advocated the policy of division of BH; he maintained that even when the prosecutor showed him an interview published in Zagreb newspaper
Vjesnik
in March 1994, where the witness criticized the HDZ because of its 'catastrophic policy' towards BH. Today he justified the things he had said by 'underdeveloped political culture' and use of 'unified phraseology'.
The prosecutor also wanted to know who exactly the witness had in mind when he criticized the then BH HDZ leadership in this interview calling them 'Tito's youth activists'. The witness didn't want to name any names. It would be 'irresponsible', he noted, as this was fifteen years ago. In his re-examination, Prlic's defense counsel Michael Karnavas told him he could reply to this question in the closed session, but the witness refused, quoting the Latin proverb,
'de mortuis nil nisi bonum'
.
The trial of the former Herceg Bosna leaders continues next week with the testimony of Dr Adalbert Rebic, former head of the Croatian Government Office for the Displaced Persons and Refugees.