Home
IZETBEGOVIC OFFERED TUDJMAN WESTERN HERZEGOVINA
Miomir Zuzul, former Croatian foreign minister, continues his evidence at the trial of former Herceg Bosna leaders. In the spring of 1993, Alija Izetbegovic offered Franjo Tudjman, Zuzul described, that Croatia annex Western Herzegovina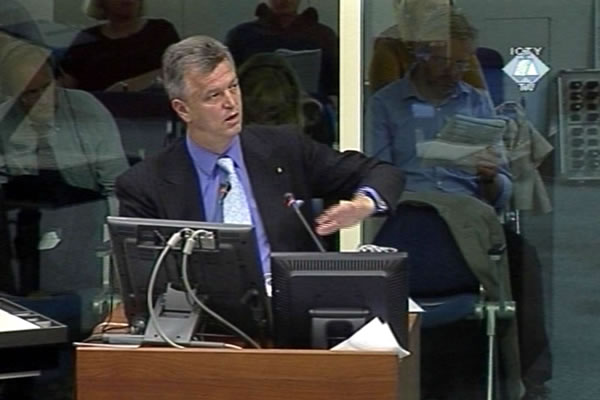 Miomir Zuzul, defence witness of Jadranko Prlic
Former Croatian foreign minister Miomir Zuzul, the first witness called by Jadranko Prlic's defense, continued his testimony today at the trial of former Bosnian Croat leaders. He recounted how in the spring of 1993, Alija Izetbegovic talked to Franjo Tudjman and proposed that Croatia annex Western Herzegovina.
This happened, Zuzul said, during a break in the peace talks in Geneva, after Serbian representative Momcilo Krajisnik 'vulgarly' insulted Izetbegovic. Tudjman was moved by 'human reasons', and he approached the Bosnian president in the presence of witnesses to offer his sympathies. They struck a conversation and Izetbegovic allegedly said to Tudjman that 'Western Herzegovina should be carved out of BH and then annexed to Croatia'. Tudjman refused the proposal, believing that it would not resolve either 'the crisis in BH or the position of the Croats living there'.
A year after that, Croatian foreign minister Mate Granic told Zuzul that he was present when Izetbegovic repeated his proposal to Tudjman at another meeting. Izetbegovic's offer included a detailed plan of the secession of Western Herzegovina from BH. According to the witness, Tudjman again rejected the proposal.
Unlike the Bosnian president, Zuzul said, the Croatian president didn't want BH to be divided. On the contrary, he advocated its sovereignty unless 'its survival is at risk'. According to the witness, Tudjman was primarily interested in protecting the Croatian borders, the rights of Croatian population living in BH and stopping of war.
The witness tried to explain the quotes from the presidential transcripts that, according to the prosecution, show Croatia had aspirations towards parts of BH in the context of certain events. Zuzul thus explained why the Croatian president mentioned the partition of BH at all in his talks with the BH delegation. As Zuzul said, Tudjman was aware that he needed Croats from Herzegovina to defend Dubrovnik and he took into consideration their proposals for the division of BH 'within its borders' because he wanted to show them respect. 'Had Croatia really wanted to take parts of BH territory, it wouldn't have helped it get arms', Zuzul noted.
Professor Zuzul's evidence continues tomorrow.