Home
PUSIC'S DEFENSE: CHAMBER CHOSE TO DISREGARD INCOVENIENT FACTS
Berislav Pusic's defense contends that the Trial Chamber chose to 'disregard inconvenient facts' that 'do not fit the narrative of the existence of a joint criminal enterprise'. Pusic did not have the power to influence the conditions in detention centers. According to the defense, he was just a pencil pusher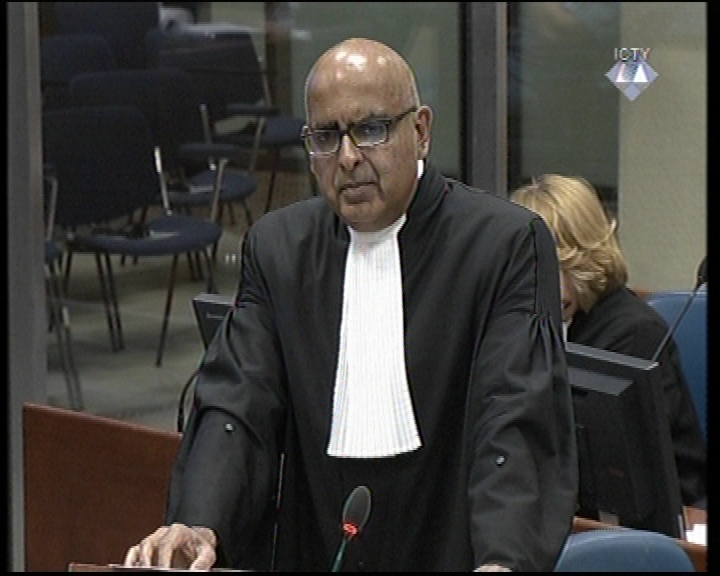 Roger Sahota representing Berislav Pušić
The appellate hearing in the case against former Herceg Bosna leaders continued today with the arguments presented by the defense of Berislav Pusic, former head of the Office for Exchange of Prisoners. The Trial Chamber sentenced Pusic to ten years in prison. He was allowed not to attend the hearing today on medical grounds. Roger Sahota, Pusic's lawyer, presented the key arguments from his appeal.
According to the defense, there is no evidence of the existence of a joint criminal enterprise whose goal was to create a Greater Croatia. The Chamber 'chose to disregard inconvenient facts' that do not fit the 'narrative of the existence of a criminal plan', such as the 'contradictory evidence of Tudjman's motives that morphed as time when by', the evidence that the HVO 'acted defensively at times' and that 'it did not implement the ethnic cleansing policies throughout the major part of the war'.
Furthermore, Sahota argued that Pusic "did not have the power" to influence the conditions in Dretelj, Gabela, Heliodrom and other detention centers. He 'did not have the wherewithal' to prevent the mistreatment of prisoners and the incidents when they were taken to the front lines to do forced labor. According to the defense, Pusic's role during the war was that of a pencil pusher.This is, as the defense stresses, the key difference between Pusic and the other accused in this case.
According to the defense, the Chamber should have 'rejected' the evidence of the former commander of the Heliodrom camp, Josip Praljak; he told the court that the prisoners had been taken to do forced labor with Pusic's prior approval. The Chamber 'should have taken into account' the statement of the former Croatian assistant defense minister Marijan Biskic who was adamant that Pusic could not issue any orders to him 'or to anyone else', which should mean that he was powerless to do anything.
According to the prosecution, Pusic was a vital member of the joint criminal enterprise because he took an active part in the implementation of one of its key goals: the deportation of as many Muslims as possible. He did this by letting the prisoners go only if their families agreed to move to third countries permanently. He was fully informed about the arrests and detention of Muslims and the horrific conditions in the detention centers, yet he did nothing to alleviate them. Quite the contrary, prosecutor Barbara Goy said: he tried to cover up the HVO's involvement.
The appellate hearing continues tomorrow with the prosecution's arguments.