Home
MLADIC'S DEFENSE RESTS ITS CASE
Although Ratko Mladic's defense has maintained he wants to call additional witnesses, the Trial Chamber officially brought the defense case to a close. The former commander of the VRS Main Staff was charged with genocide and other crimes in the BH war. Today Russian colonel Demurenko completed his evidence in Mladic's defense via video link from Moscow. On 15 June 2016, he left The Hague in the middle of his testimony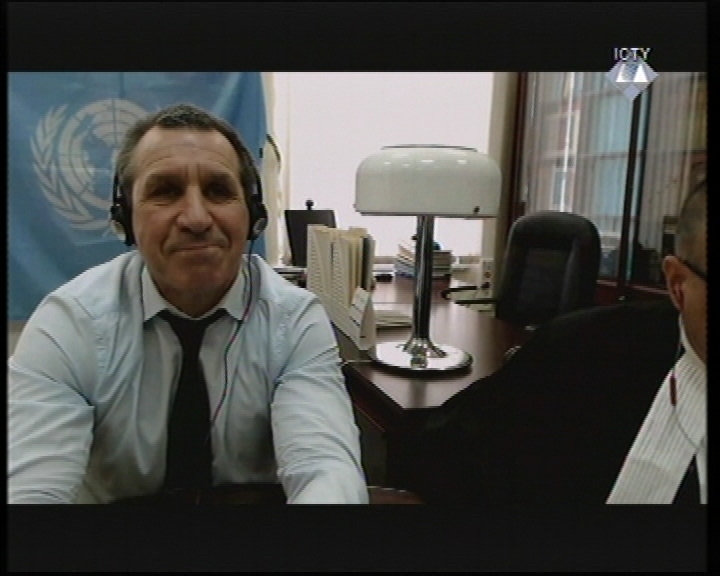 Colonel Andrey Demurenko, last witness at Ratko Mladic's trial
Ratko Mladic's defense counsel Dragan Ivetic has indicated that he will seek leave to appeal against the confidential decision issued yesterday by the Trial Chamber dismissing the defense's request to be allowed to call another two unidentified witnesses. The Trial Chamber nevertheless decided today to bring Ratko Mladic's defense case to a close.
The decision was taken after prosecutor Alan Tieger completed the cross-examination of Russian colonel Andrei Demurenko. On 15 June 2016, Demurenko suddenly cut short his testimony, left The Hague and returned to Moscow. Speaking to the representatives of the Tribunal's Victims and Witnesses Unit Demurenko said that he had felt 'under pressure' in the courtroom and was treated 'aggressively and unreasonably'. He was repeatedly insulted and was not allowed to shake hands with General Mladic. Demurenko thus decided not to complete his evidence. The representatives of the Victims and Witnesses Unit representatives warned Demurenko that he could face contempt of court charges if he left. When the defense counsel asked Demurenko who had pressured him and treated him aggressively and unreasonably, the witness asked permission to 'refrain from answering' because he didn't want to cause 'more inconvenience for the esteemed staff of the Tribunal'.
In 1995, Colonel Demurenko was the chief of staff in the UNPROFOR HQ in the Sarajevo sector. After the second Markale incident in August 1995 Demurenko conducted his own investigation into the incident. He established that the shell that killed 43 and wounded 75 persons hadn't been fired from the Serb positions. Demurenko's findings contradicted the conclusions of the official investigation launched by UNPROFOR.
In his evidence at the trials of the erstwhile commander of the Sarajevo-Romanija Corps Dragomir Milosevic and of the Republika Srpska president Radovan Karadzic, Demurenko discussed the findings of his investigation. However, the judges rejected his evidence as unreliable. In Dragomir Milosevic'sjudgment the judges concluded that the area covered by Demurenko's investigation had been too small to yield reliable results. After that, at Karadzic's trial the Russian colonel claimed that he had inspected a much wider area, but the Trial Chamber didn't put much stock in his evidence either. It was impossible to visit all the positions around Sarajevo from which the fatal shell could have been fired in such a short time, the judges concluded.
Today the prosecutor quoted the relevant paragraph from Karadzic's judgment where the judges state Demurenko's evidence was unreliable. As Demurenko stated with some resignation, if that is indeed the case, his testimony was 'completely pointless. 'That only confirms that you are biased and not neutral', Demurenko told Tieger. According to the witness, he could see that clearly when he began his evidence in June 2016, because the presiding judge repeated the prosecutor's question no less than 13 times. By comparison, the presiding judge only repeated the defense counsel's question three times.