Home
MLADIC'S COMPLAINT ABOUT 'SYSTEMATIC BIAS' REJECTED
The Tribunal's President decides not to consider the merits of Mladic's motion in which Mladic accused the judges in the Trial Chamber and the Appeals Chamber of showing 'systematic bias'. Mladic demanded that the proceedings against him be terminated and that a special working group be set up in the UN Security Council to investigate the allegations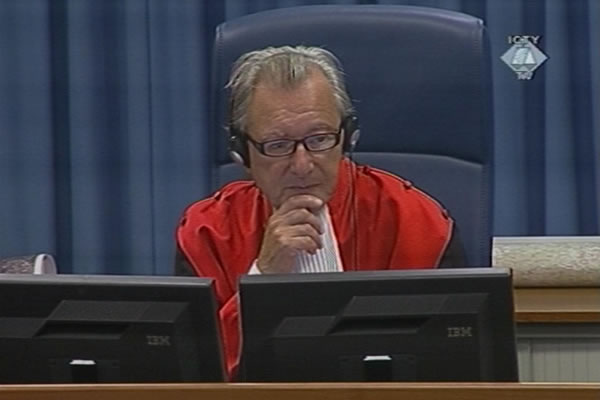 Carmel Agius, judge at the Tribunal
On 20 July 2016, Ratko Mladic's defence filed a motion demanding that the proceedings against the Bosnian Serb general be terminated because of the 'systematic bias' shown by two trial judges and three appellate judges, the presidents of the Tribunal and the Mechanism for International Criminal Tribunals as well as high-ranking UN officials. According to the defence, they have all 'set aside the right of the accused to the presumption of innocence and have convicted him'. The defence therefore wants the UN Security Council to set up a working group to investigate the allegations.
According to the defence, trial judges Alphons Orie and Cristoph Fluegge in effect convicted Mladic when they rejected the defence's demand that their client's right to a fair trial and the presumption of innocence be guaranteed. The two judges were compromised: Judge Orie because he had taken part in the Galic and Krajisnik cases and Judge Fluegge because he was one of the judges who tried Tolimir.
According to the defence, the same can be said for the three appellate judges who have been involved in the cases where Mladic was 'already found guilty'. The judges Mladic wants to see disqualified are Fausto Pocar was on the panel in the case against Popovic et al., and the current president of the Mechanism, Judge Theodor Meron and Judge Jean-Claude Antonetti, who were involved in the case against Tolimir. The current Tribunal's president Judge Carmel Agius is also on the defence's list of unsuitable judges, because he was the presiding judge in the trial chamber in the Srebrenica Seven case, where the accused were all convicted of genocide in Srebrenica and Zepa.
In his decision, Judge Carmel Agius, the Tribunal's President, notes that the defence's motion contains no new argument in support of the demand to disqualify judges Orie and Fluegge. The defence's motion was already rejected on 26 August 2016. As Judge Agius stresses in his decision, the defence failed to present any legal grounds for its decision to address the Tribunal's President instead of the Trial Chamber. According to the Statute, the Trial Chamber is 'primarily responsible for securing a fair trial' for persons accused of war crimes. In light of all those facts, Judge Agius decided not to consider the merits of the motion submitted by Mladic's defence.