Home
CLOSING ARGUMENT AT RATKO MLADIC'S TRIAL SET FOR DECEMBER 2016
In the case against the former commander of the VRS Main Staff, the prosecution and defence will deliver their closing arguments in December 2016. The trial lasted 523 days; the court heard the testimony of 380 witnesses and admitted almost 10,000 exhibits into evidence. Ratko Mladic is on trial for genocide and other crimes committed in the BH war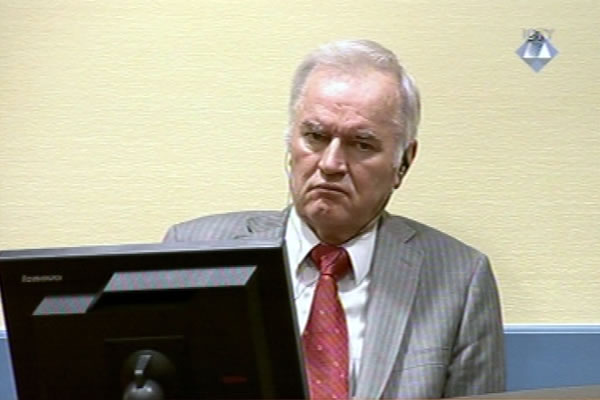 Ratko Mladic in the courtroom
The closing arguments of the parties in the case against Ratko Mladic, former commander of the VRS Main Staff, are slated to take place from 5 to 15 December 2016. The prosecution and defence will both have three court days to deliver their arguments. After that, the parties will each have 90 minutes to respond. The prosecution and the defence have to submit their final briefs by 25 October 2016.
The trial of Ratko Mladic for genocide and other crimes in the war in Bosnia and Herzegovina began on 16 May 2012. The prosecution called 172 witnesses and tendered into evidence more than 7,500 exhibits. The defence examined 208 witnesses and presented about 2,000 exhibits.
With a total of 523 court days, this is the Tribunal's longest trial: it is longer than the 'megatrials' of the six former Herceg Bosna leaders or the seven Republika Srpska military and police officers who were charged with the Srebrenica crimes. On the other hand, because of Mladic's ill health, the hearings were half an hour shorter than the usual time.
The judgment in Ratko Mladic's case is planned for late 2017.