Home
MLADIC'S DEFENSE CALLS FOR REVIEW OF TRIAL CHAMBER'S DECISION
Ratko Mladic's defense reiterates the demands it had made in an earlier motion, insisting that Mladic's right to a fair trial and the presumption of innocence are guaranteed, even though the Trial Chamber rejected the original motion. The defense wants a review of the Trial Chamber's decision or, alternatively, seeks permission to appeal against the decision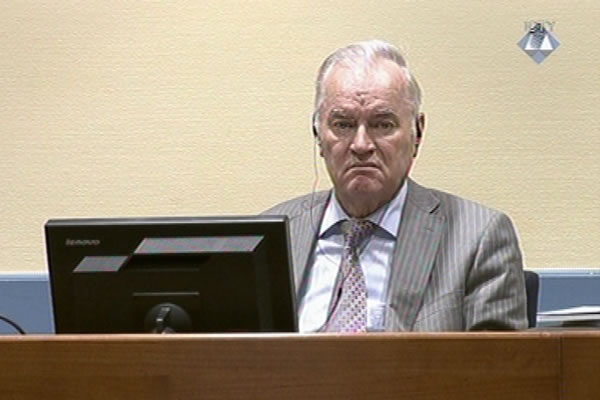 Ratko Mladic in the courtroom
Ratko Mladic's defense has called for a review of the Trial Chamber's decision to deny its motion in which it sought either to be given guarantees that Mladic's right to a fair trial and the presumption of innocence would be safeguarded or a mistrial. In its motion filed today the defense seeks permission to appeal against the Trial Chamber's decision.
According to the defense, when the Trial Chamber considered the motion, it failed to take into account the things that bothered the accused the most: 'the violation of his right to be presumed innocent'. In the defense's view, a number of conclusions in the recent trial judgment in the case against Radovan Karadzic have for all intents and purposes convicted Mladic ahead of his judgment. In two paragraphs, the trial judgment concludes that Mladic's involvement in the joint criminal enterprise has been established beyond reasonable doubt.
The defense holds that the Karadzic judgment has also convicted Mladic. The very fact that a number of persons who had taken part in the drafting ofKaradzic's judgment are now working with the judges in the Mladic case could significantly impact the outcome of the trial, the defense maintains. Mladic's defense refers to the judges' legal assistants who could apply the conclusions from the case against Karadzic to the Mladic case.
In its decision the Trial Chamber concluded that Mladic's right to a fair trial was not compromised. According to the judges, the fact that two legal advisors who had worked with the trial chamber in the Karadzic case were employed to help the judges in Mladic's case didn't jeopardize the fairness of the trial or the integrity and impartiality of the Trial Chamber hearing the case against the former commander of the VRS Main Staff.