Home
MLADIC'S DEFENSE MOTION FOR MISTRIAL DENIED
The fact that two legal advisors to the Trial Chamber sitting in the Radovan Karadzic case had assisted the judges who will be deliberating Ratko Mladic's judgment does not call into question the integrity of the trail and the presumption of impartiality of the judges in the case against the former VRS Main Staff commander, the Trial Chamber rules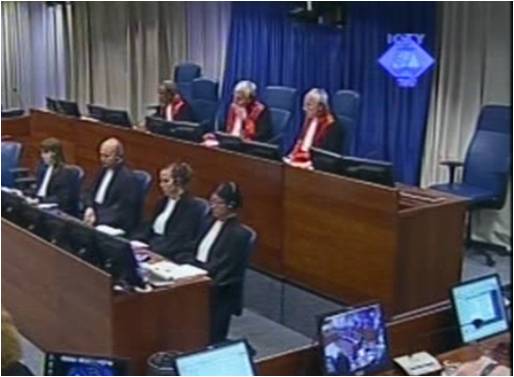 Trial Chamber at the trial of Ratko Mladić
Judge Orie's Trial Chamber denied Ratko Mladic's defense motion in which he wanted to be givenguarantees for a fair trial and the presumption of innocence or, alternatively, a mistrial. Mladic's defense submitted the motion on 20 May 2016.
Mladic's defense filed the motion after learning that a few legal advisors hired to assist the Trial Chamber in the case against Radovan Karadzic had previously assisted the judges who hadtried Radovan Karadzic. The legal advisors helped the judges analyze the exhibits and draft Karadzic's judgment, the defense noted in the motion, and could, deliberately or not, apply the conclusions they had reached in the Karadzic case to the Mladic trial. Thus, the legal advisors would be able to influence the judges relying on their help, Mladic's defense stressed.
In their decision denying the defense's motion the judges note that only two legal advisors who had been involved in the Karadzic case are working on the Mladic case. The advisors do legal research, produce drafts and communicate with the parties; the judges are the only ones making decisions.
The Trial Chamber agreed that there is a considerable overlap in the indictments and evidentiary record in Mladic's and Karadzic's cases. Despite that, in their decision denying the defense's motion, the judges concluded that a properly informed and reasonable observer would not, on the basis of the circumstances described in the defense's motion, question the integrity and impartiality of the judges working in Mladic's case. Also, such an observer would not expect the judges to do anything other than rule fairly on the issues before them relying exclusively on the evidence adduced in the present case – even if they or their advisors had been exposed to the relevant evidence in both cases.