Home
DEFENSE: POSTPONE CLOSING ARGUMENTS UNTIL JANUARY 2017
Ratko Mladic's defense wants the judges to extend the deadline for the submission of final briefs from 1 September to 7 December 2016. According to the defense, the closing arguments should begin on 12 January 2017. Mladic's defense expects Russian colonel Demurenko to complete his evidence 'some time in July 2016'. Last week Demurenko left home in the middle of his cross-examination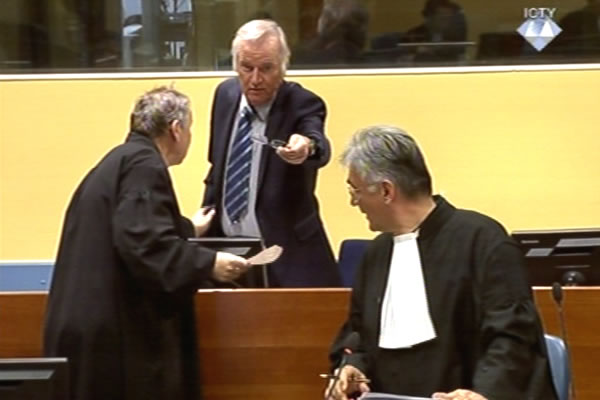 Ratko Mladic in the courtroom
Ratko Mladic's defense has asked the judges to extend the deadline for the submission of final briefs from 7 December 2016 and to postpone the closing arguments, initially scheduled for mid-October 2016, to 12 January 2017. In a motion filed to the Trial Chamber, Mladic's defense has noted many problems it is facing; some of them have cropped up recently but they will nevertheless prevent the defense from preparing effectively its final brief and submit it by the deadline set by the judges, which is 1 September 2016.
The defense's problems stem from a number of procedural, factual and legal issues, the length of the final brief, the complexity of the case and some 'extraordinary circumstances' beyond the defense's control. Since the opening of the trial in June 2011 a total of 572 witnesses have testified. The defense has not yet rested its case.
The defense hopes that Russian colonel Andrei Demurenko will complete his evidence, 'some time in July 2016 before the Tribunal's summer recess.' Not that long ago, Demurenko left The Hague in the middle of his cross-examination. The defense continues with its efforts to bring Jasmin Odobasic to The Hague to testify. Odobasic is a former member of the BH Commission for Missing Persons. Intensive negotiations are underway between the parties, the Registry, the BH government and the witness.
If they come, it seems that Demurenko and Odobasic would not be Ratko Mladic's last defense witnesses. The defense has noted that it might want to call a few other witnesses, in order to tender some additional exhibits into evidence through them.