Home
DEMURENKO LEFT BEFORE COMPLETING EVIDENCE
Russian colonel Andrei Demurenko failed to show up in court this morning. The witness was expected to continue his evidence in Ratko Mladic's defense. The presiding judge said that Demurenko had left Holland 'after midnight'. The judges asked the defense and the prosecution to present their positions on what should be done with Demurenko's statement and unfinished evidence. Mladic waived his right to attend the hearing and was absent today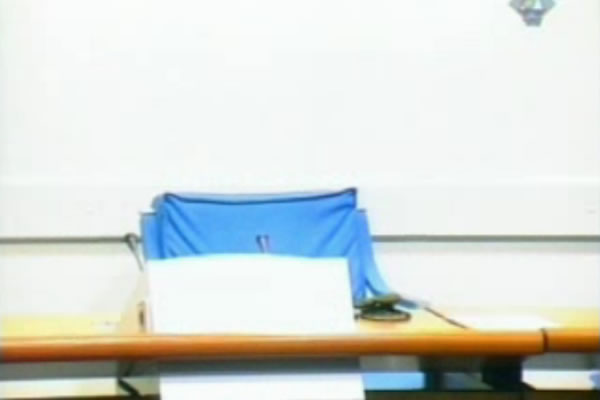 Emty chair of Ratko Mladic
Witness Andrei Demurenko failed to show up this morning in court where he was expected to continue his evidence in Ratko Mladic's defense. The Trial Chamber was informed that Demurenko had left Holland last night, after midnight, presiding judge Alphons Orie told the parties.
Demurenko left the country of his own will before completing his testimony at Mladic's trial. The prosecutor was expected to continue with the cross-examination and the defense would have been given an opportunity to re-examine the witness. Instead, Judge Orie thanked the Russian interpreters for their assistance during the first two days of Demurenko's evidence and asked the parties to present their positions on the new situation in writing.
It looks as if Mladic's defense will now rest its case following Demurenko's unfinished evidence. The only outstanding issue is the testimony of witness Jasmin Odobasic from the BH Commission for the Missing Persons. Earlier this week, Mladic's defense indicated that it would seek permission to tender Odobasic's statement into evidence in line with a rule that applies to 'unavailable witnesses'. According to the rule, previous statements of unavailable witnesses can be admitted into evidence without their appearance in the courtroom.
Judge Orie adjourned the trial sine die, until further notice. The closing arguments are expected to be scheduled for mid-October 2016.