Home
NEW HEARING ON HADZIC'S HEALTH
The Trial Chamber has scheduled a hearing for 29 July 2015 to hear the medical experts' conclusions on Hadzic's ability to take part in his trial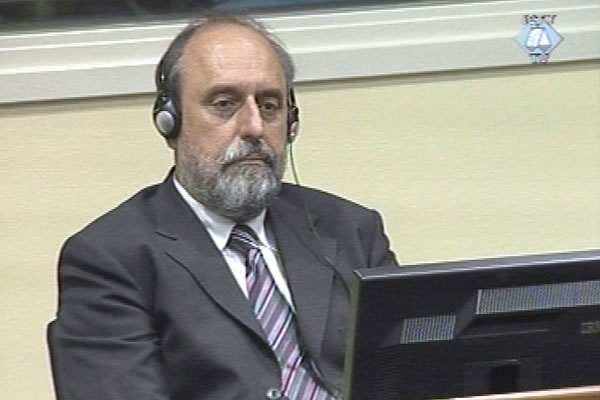 Goran Hadzic in the courtroom
The parties in the case against Goran Hadzic, former prime minister of the SAO Eastern Slavonia, will meet on Wednesday, 29 July 2015 to hear the conclusions of two medical experts: a neuropsychologist and a neurooncologist. The trial of Goran Hadzic has been suspended since October 2014 when he was diagnosed with an inoperable brain tumor.
In early April 2015, the Trial Chamber ordered the ICTY Registry to appoint medical experts and instruct them to establish whether there is any way for Hadzic's trial to resume. In the meantime, the prosecution has urged the judges to resume the trial with or without Hadzic. The defense has opposed the prosecution's motion, arguing that the trial should be discontinued because the accused has only a couple of months to live.
In June 2015, the Registry appointed Dr Pol Specenier as the neuro-oncological medical expert. On 15 July 2015, Dr. Specenier submitted his expert report on Hadzic's health. Dr Daniel A. Martell was appointed to provide his expert opinion as a forensic psychologist and neuro-psychologist. Dr Martell's report was expected on 23 July 2015.
Dr Martell has confirmed that he is available to appear in court on 29 July 2015, and the Trial Chamber has now scheduled the hearing on that date. At the previous hearing on Hadzic's medical condition, the court heard the findings of neuro-oncologist Tatjana Seute and neurologist Patrick Cras almost entirely in closed session. The experts concluded at that point that it was too early to say if Hadzic could 'bear the burden' of active participation in the trial given the chemotherapy results.
The former prime minister of the Serb Autonomous Region of Slavonia, Baranja and Western Srem and later president of the so-called Republic of Serbian Krajina faces charges of crimes against humanity and violations of law and customs of war in Eastern Slavonia from June 1991 to the end of 1993.