Home
HADZIC'S DEFENSE DOESN'T WANT TRIAL TO CONTINUE
Goran Hadzic's defense has urged the Trial Chamber to reject the prosecution's urgent motion for the trial to resume. In the defense's view, the motion is 'groundless, premature and inconsiderate' and a violation of Hadzic's basic rights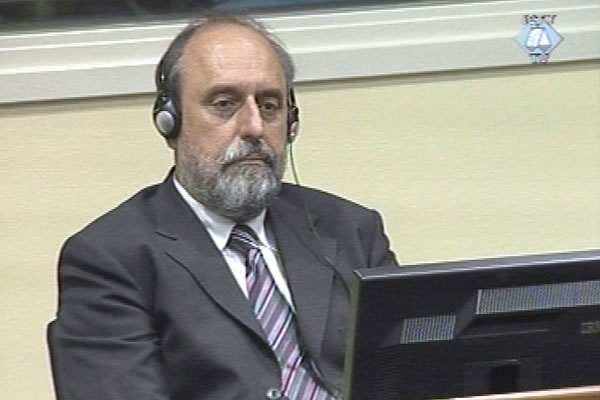 Goran Hadzic in the courtroom
The defense of Goran Hadzic, former prime minister of SAO Eastern Slavonia, has called on the judges to dismiss 'in its entirety' the prosecution's urgent motion to continue the defense's case. The prosecution's request is 'frivolous, premature ill-advised,' and it violates Hadzic's rights.
In its motion of 19 June 2015 the prosecution agreed to 'unconditionally' waive its right to cross-examine the remaining defense witnesses. Bearing in mind the poor health of the accused, the prosecution urged the judges to resume the trial and complete it as soon as possible. The prosecution also asked the Trial Chamber 'in the interest of justice' to admit written statements of the remaining defense witnesses or to examine them before the Tribunal's summer recess, to set the dates for the submission of final briefs and to render its oral judgment as soon as possible. Later on the judges would render a written judgment with more details.
In the defense's view, the prosecution has thus 'egregiously' violated Hadzic's right to be presumed innocent, to attend the trial and examine witnesses under same conditions as the prosecution and the right to a fair trial. The trial 'conducted in such egregious disregard of
basic fairness and fundamental human rights' cannot be in the interest of either the public or the victims and their families.
According to the defense, the prosecution's 'unconditional waiver' of its right to cross-examine the witnesses does in fact contain a condition: the request to allow it to contest their statements in the final brief. This request is a violation of the Tribunal's rules, the defense noted. If the defense were to collect written statements of viva voce witnesses without consulting Hadzic 'in just 23 days', it would contribute to the violations of the rights of the accused.
It is a "fantastic impossibility' to collect the statements in such a short period, all the more so in light of the witness list, the defense went on to note. The defense intended to examine former members of the government of the SAO of Eastern Slavonia and the Republic of Serb Krajina, former officers in the JNA and in the Serb Krajina Army, former commander of the Operational Group South Mile Mrksic, commanders of village guards, presiding judges, the Vukovar Territorial Defense assistant commander as well as a member of the Petrova Gora unit who was in Velepromet and Ovcara. Also, the defense intended to call a witness to testify about the relationship between Hadzic, Milan Babic and Slobodan Milosevic during the cease fire negotiations with the Croatian government.
The defense also asked if it was fair to convict a man who would then be so ill as to not be able to understand the judgment or to appeal if found guilty.
The trial of Goran Hadzic for crimes against humanity and violations of laws and customs of war was suspended in October 2014 after the accused was diagnosed with an inoperable brain tumor.