Home
GORAN HADZIC'S TRIAL SUSPENDED FOR THREE MONTHS
The Trial Chamber has rejected the prosecution's motion for urgent continuation of the proceedings against Goran Hadzic and the defense's motion for its termination. The judges have decided instead to suspend the trial for three months, in the first instance, and then to extend the suspension if the health of the accused fails to improve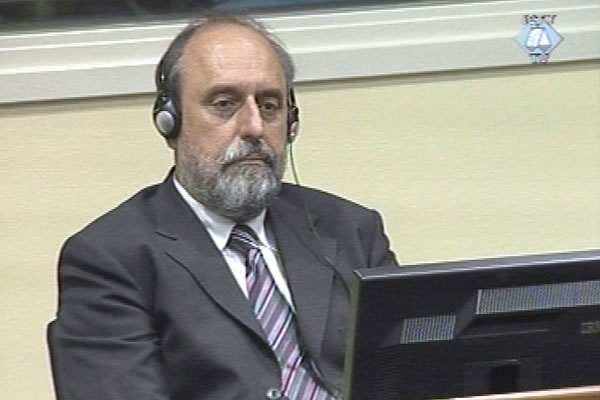 Goran Hadzic in the courtroom
The Trial Chamber in the case against Goran Hadzic has finally ruled on the series of motions in which the prosecution demanded that the trial continue urgently and the defense asked the judges to terminate the proceedings. Instead of deciding to either continue or terminate the proceedings, the judges have opted for a temporary stay of proceedings for an initial period of three months. The suspension may be extended if the health of the accused fails to improve. The proceedings against the former political leaders of the Serbs in Croatia have been suspended since last October, when Hadzic was diagnosed with an incurable and inoperable brain tumor.
In a lengthy decision on the opposing demands made by the parties, the Trial Chamber stresses that it has always aimed at completing the proceedings against Hadzic and to render a judgment in full respect of the rights of the accused. However, if the health of the accused does not allow the proceedings to continue in this manner, the judges must 'accept this reality'.
With a majority of votes, Judge Hall dissenting, the Chamber decided that Hadzic is fit for trial right now, that he is able to understand the essentials of the proceedings and is able to take part in his trial and to communicate with his defense. However, his fitness to stand trial, the advanced stage of the proceedings, the gravity of the crimes he is charged with and the interest of the victims and witnesses to see the case adjudicated carry less weight than 'the inhumanity of a situation whereby Hadzic would live out the remainder of his life in detention while being presumed innocent'.
As it weighed the options, to temporarily suspend or to terminate the proceedings, the Chamber decided that a renewable three-month suspension will better serve the interests of justice and is more in line with the practice of the Tribunal. The temporary stay of proceedings will allow the judges to monitor Hadzic's health and will leave open the possibility that the trial might resume if his health improves; this is not very likely.
The decision extends Hadzic's provisional release in Novi Sad, Serbia, under the same conditions and with the obligation to report to the Trial Chamber every two weeks about the health status of the accused.