Home
PROSECUTION'S NEW URGENT REQUEST TO CONTINUE HADZIC TRIAL
The prosecution wants the Trial Chamber to order Goran Hadzic's trial to continue as soon as possible, to set dates for the submission of final briefs and to render its oral judgment. Later on, the judges would render a written judgment with more details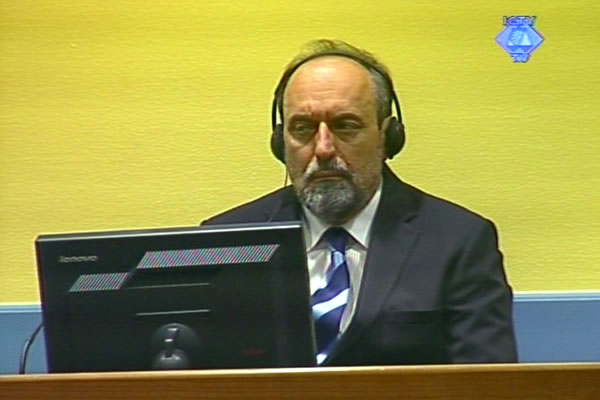 Goran Hadzic in the courtroom
In its latest motion, the prosecution has called for an urgent continuation and completion of the trial of Goran Hadzic, former prime minister of the SAO Eastern Slavonia and president of the self-proclaimed Republic of Serbian Krajina. The trial has been adjourned since October 2014, when Hadzic was diagnosed with an aggressive brain tumor.
Noting that an expeditious completion of the proceedings mostly depends on the judges, the prosecution has urged the Trial Chamber to admit into evidence written statements of 43 of the 54 remaining defense witnesses. Also, the prosecution wants the Trial Chamber to order the defense to submit before the Tribunal's summer recess the statements of another 11 witnesses they planned to examine in the courtroom. If the Trial Chamber finds it necessary to examine the witnesses, the prosecution wants them to testify before the summer recess. In the prosecution's opinion, the Trial Chamber should also impose deadlines for the submission of final briefs and to render the judgment orally as soon as possible. A written judgment would follow later, with a detailed reasoning.
Bearing in mind the right of the accused to a fair trial and the need to end the trial as soon as possible, the prosecution has decided to 'unconditionally waive its right' to cross-examine the remaining defense witnesses. Yet, the prosecution still wishes to reserve its right to contest the relevance of their evidence, the evidentiary value and weight in its final brief.
In the motion, the prosecution notes that in this case, several factors militate in favor of continuing the trial and bringing it to an end. One of them is the gravity of the crimes Hadzic is charged with and the value of the evidence called so far. As the prosecution notes, the defense has called more than 50 percent of its evidence, it has had sufficient time to prepare for the remaining testimonies and Hadzic has already testified in his own defense. Also, it is in the interest of public, and particularly the victims, to establish Hadzic's responsibility.
Although the prosecution recognizes the fact that the judges are still waiting for the reports of medical experts who have examined Hadzic, there is no reason why those measures cannot be taken, according to the prosecution. To avoid any further postponement, the prosecution wants the defense to submit its response within seven days.
This is the prosecution's second motion for the trial to continue. The Trial Chamber hasn't yet responded to the first motion filed in February 2015 in which the prosecution asked the trial to continue with or without Hadzic.