Home
'CRUEL AND INHUMANE TREATMENT' OF MILAN LUKIC IN ESTONIAN PRISON
Milan Lukic has been sentenced to life in prison at the Tribunal for the crimes against Muslims in Visegrad. Lukic, who is serving his sentence in Estonia, has now demanded to be transferred to a prison in some other country. It is complicated to maintain relations with his family and the language barrier inflicts on Lukic "growing psychological harm"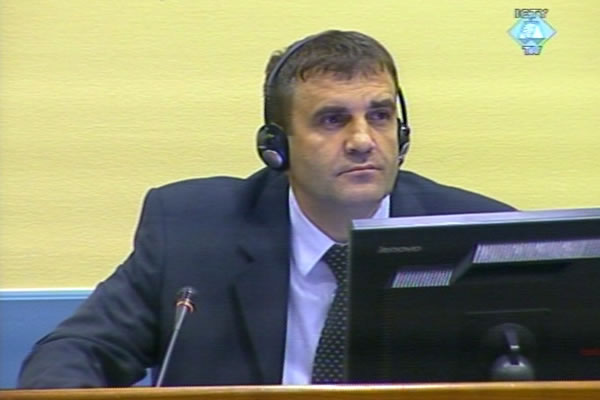 Milan Lukic in the courtroom
Milan Lukic's lawyers have asked the Mechanism for International Criminal Tribunals to reconsider the decision of the Tribunal's President whereby their client was sent to the Tartu Vangla prison in Estonia to serve his sentence.
In 2012, the Appeals Chamber sentenced Lukic to life in prison after he was found guilty for the killing of more than 100 Visegrad Muslims. Most of the victims were women, children and the elderly. Lukic was found guilty of two incidents in which he set fire to two houses in the Pionirska Street in the Bikavac neighborhood in which a large number of civilians were locked up, the executions of civilians on the Drina River bank, and other crimes, qualified as crimes against humanity and violations of laws and customs of war.
In today's motion Lukic asked the judges to be transferred back to The Hague and to schedule a hearing to discuss the conditions in the prison. He and other witnesses, including an American psychiatrist, the International Red Cross staff and Lukic's wife would testify at the hearing. According to Lukic's defense, Lukic's treatment in the Estonian prison can be described as 'cruel and inhumane'. As a consequence, Lukic has been seriously "psychologically" damaged.
One of the main reasons for the transfer demand is the fact that Lukic has not been able to maintain normal relations with his family. Lukic has attached to the motion his wife's letter to the lawyer. His defense notes that Lukic's 'right to family life has been jeopardized. The fact that Lukic is not able to communicate with other prisoners because of the language barrier and 'discrimination'has caused "growing psychological harm'. As a consequence, Lukic cannot work or take part in the rehabilitation programs.
Before he was transferred to the Estonian prison, Milan Lukic called for a review of his appellate judgment. Lukic wanted to call four witnesses who were supposed to confirm that he was not at any of the locations where the incidents he was convicted of happened. Lukic had presented an alibi defense at trial, but the judges rejected his witnesses' evidence.