Home
FINAL JUDGMENT FOR MILAN AND SREDOJE LUKIC ON 4 DECEMBER 2012
On 4 December 2012, Milan and Sredoje Lukic will hear the final judgment for crimes against Muslims in Visegrad. The Trial Chamber sentenced Milan Lukic to life and Sredoje Lukic to 30 years in prison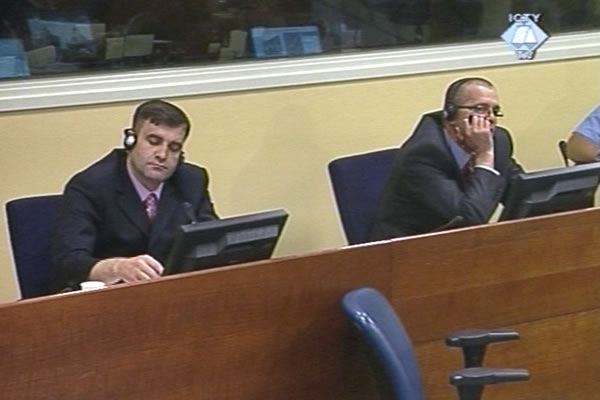 Milan i Sredoje Lukić u sudnici Tribunala
The Appeals Chamber will deliver the final judgment to Milan and Sredoje Lukic on Tuesday, 4 December 2012. Milan and Sredoje Lukic were tried for crimes against Muslims in Visegrad in 1992.
The Trial Chamber rendered its judgment on 20 July 2009, sentencing Milan Lukic to life and Sredoje Lukic to 30 years in prison. Milan Lukic was found guilty of extermination, murder, cruel treatment and inhumane acts pertaining to six incidents listed in the indictment. The Trial Chamber found Milan Lukic directly responsible of the two incidents in which two groups of women, children and the elderly were burned alive in houses in Pionirska Street and in Bikavac. On 14 and 27 June 1992, more than 100 persons were burned alive in the 'living pyres'. The judges concluded that Milan Lukic was also guilty of executing five Bosniaks on the Drina river bank on 7 June 1992, the murder of seven employees of the Varda factory, the murder of a Muslim woman named Hajra Koric, and the brutal abuse of detainees in the Uzamnica prison camp near Visegrad. Sredoje Lukic was convicted as an accomplice in the incident in which civilians were burned alive in Pionirska Street and the abuse of prisoners in the Uzamnica prison camp.
During the trial that began in July 2008, the prosecution called 46 witnesses. Sredoje Lukic's defense called three and the defense of Milan Lukic called 28 witnesses. The Trial Chamber called four witnesses. The parties presented their closing arguments on 19 and 20 May 2009.
In their appeals, the defense teams representing Milan and Sredoje Lukic called for a reversal of the Trial Chamber's judgment or for milder sentences. The prosecution appealed only against Sredoje Lukic's sentence. The prosecution wants the Appeals Chamber to find Sredoje Lukic guilty of persecution and aiding and abetting extermination, and has called for a longer prison sentence for Lukic. The appellate hearing was held in September 2011.