Home
PROSECUTOR: MILAN LUKIC'S HUMAN RIGHTS NOT JEOPARDIZED
The prosecution has urged the Tribunal to dismiss in full Milan Lukic's motion for his transfer to another country where he would then serve his life sentence. Lukic was convicted of the crimes against Muslims in Visegrad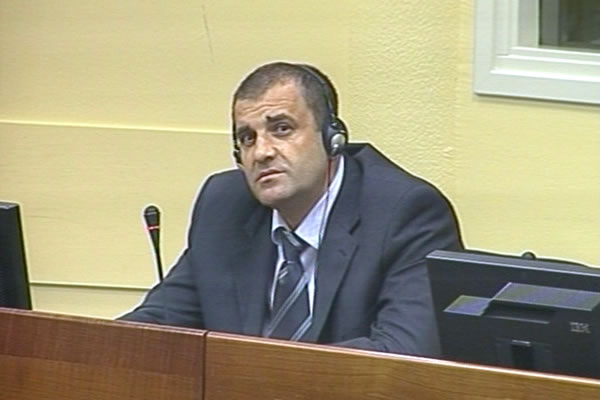 Milan Lukic in the courtroom
The prosecution has urged the president of the Mechanism for the International Criminal Tribunals to dismiss Milan Lukic's motion to review the decision to place him in a prison in Estonia where he is to serve his life sentence.
The Appeals Chamber confirmed Milan Lukic's life sentence for his personal involvement in more than a hundred killings in Visegrad in 1992. Also, Lukic was found guilty of two incidents in which about a hundred women, children and the elderly were burned alive, as well as of the executions of two groups of men on the Drina river bank and other crimes, qualified as crimes against humanity and violations of laws and customs of war.
Lukic has recently complained about the 'cruel and inhumane treatment' in the Estonian prison where he is now. Lukic wants a hearing to be held in The Hague to discuss the conditions in prison. As Lukic explained, the judges would hear him and other witnesses, a psychiatrist, the International Red Cross staff and his wife.
In its response to the motion, the prosecution stresses that there are no legal grounds for a review of the decision about the location where Lukic is to serve his sentence. The prosecution also notes that Lukic has failed to show that the Trial Chamber erred in making the decision. According to the prosecution, Lukic has not shown that his human rights are being violated, in particular his right to a family life. Lukic has stressed the issue as a particular problem. The prosecution has invoked the decisions of the European Court of Human Rights, which all find that the European Convention 'does not grant a convict the right to choose the location where he is to serve his sentence', and that 'separation from family is an unavoidable consequence of a prison sentence'. Lukic has never been denied the possibility to communicate and meet with his family. According to the prosecution, last year alone Milan Lukic had at least 11 visits. The prosecution also notes that Lukic can apply for financial support for family visits. Lukic has failed to indicate if he has tried to exercise his right to this support.
The prosecution has also commented on Lukic's complaints about the language barrier: the fact that Lukic has not yet had Estonian classes does not mean that he will not be offered to attend such classes in future.
In light of all those arguments, the prosecution concludes that Milan Lukic's motion should be dismissed in its entirety.