Home
APPEALS CHAMBER'S JUDGMENT FOR MILAN AND SREDOJE LUKIC BEFORE TRIBUNAL'S WINTER RECESS
As the presiding judge in the appellate proceedings of Milan and Sredoje Lukic indicated today, the Appeals Chamber would render its judgment for crimes against Muslims in Visegrad before the Tribunal's winter recess. This year the Tribunal's winter recess begins in mid-December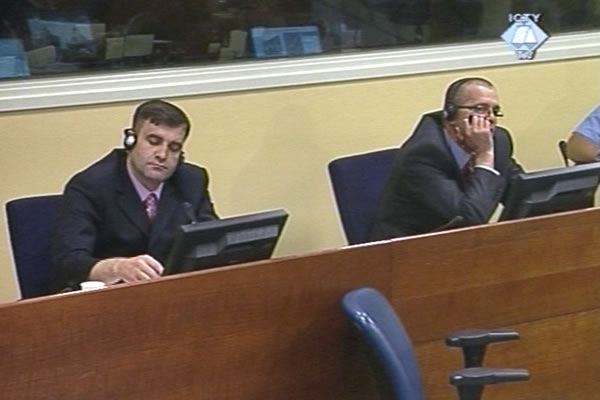 Milan i Sredoje Lukić u sudnici Tribunala
The Appeals Chamber will hand down its judgment to Milan and Sredoje Lukic before the Tribunal's winter recess, Judge Mehmet Guney indicated today at the ninth status conference in the appellate proceedings. The date of the judgment will be set later.
The Trial Chamber handed down its judgment to Milan and Sredoje Lukic in July 2009. An appellate hearing was held in September 2011 and the Appeals Chamber's judgment was initially expected in June or July 2012 and then postponed until August or September 2012.
Milan Lukic was found guilty of all crimes he was charged with and was sentenced to life in prison. The Trial Chamber found Milan Lukic was directly responsible for the execution of five Bosniaks on the Drina river bank on 7 June 1992, the murder of seven employees of the Varda factory and the two 'living pyres' in Pionirska Street and Bikavac neighborhood, in which about 100 civilians were burned to death. Milan Lukic was also convicted of the murder of Hajra Koric and the brutal abuse of prisoners of the Uzamnica prison camp near Visegrad. Sredoje Lukic was sentenced to 30 years in prison as a co-perpetrator in the burning of civilians in Pionirska Street and the abuse of detainees in Uzamnica prison camp. The defense called for a reversal of the Trial Chamber's judgment or at least for milder sentences. The prosecution appealed only against Sredoje Lukic's sentence. The prosecution wants Sredoje Lukic to be convicted of persecution and aiding and abetting extermination.
Neither of the accused complained against the conditions in the detention unit at the status conference today. As the parties didn't raise any additional issues, the status conference in the appellate proceedings ended in less than ten minutes.