Home
LIFE SENTENCE CONFIRMED FOR MILAN LUKIC, SREDOJE LUKIC'S SENTENCE REDUCED BY THREE YEARS
Milan and Sredoje Lukic heard the final judgment for grave crimes against Muslims in Visegrad in 1992 and 1993. Milan Lukic smiled cynically, and Sredoje Lukic appeared crestfallen. The representatives of the victims from Visegrad were happy with the judgment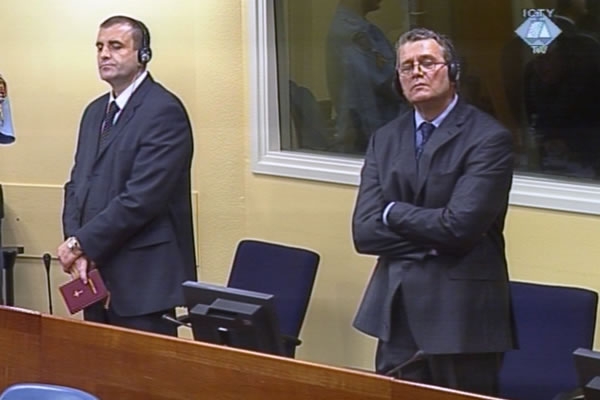 Milan and Sredoje Lukic in the courtroom
The Tribunal's Appeals Chamber today confirmed unanimously the life sentence for Milan Lukic. The majority of the judges decided to reduce the sentence of Milan Lukic's cousin Sredoje Lukic from 30 to 27 years in prison; two appellate judges dissented.
In July 2009, the Trial Chamber found Milan and Sredoje Lukic guilty of crimes committed in 1992 and 1993 against Muslims in Visegrad. The first accused Milan Lukic was convicted of the crimes committed in six separate incidents: two 'living pyres' in Pionirska Street and the Bikavac neighborhood in Visegrad, the murder of 12 Muslims on the Drina river bank and in the Varda factory, the murder of Hajra Koric and the abuse of detainees in the Uzamnica prison camp. About 120 women, children and elderly were burned alive in the two living pyres. Lukic was sentenced to life in prison for those crimes.
The Appeals Chamber dismissed each of the eight grounds of appeal filed by Milan Lukic but partially granted two sub-grounds because of the errors that didn't substantially influence the trial judgment. The appellate judgment reduced the number of victims of the living pyre in Pionirska Street from 59 – as listed in the trial judgment – to 53. Also, it was established that the Trial Chamber didn't adequately assess to what extent the fact that some prosecution witnesses had contacts with the Women – victims of war association affected the credibility of their evidence before the Tribunal.
The Trial Chamber found Sredoje Lukic, police officer from Visegrad, guilty of aiding and abetting the crime in Pionirska Street and of the abuse of detainees in the Uzamnica prison camp. The majority in the Appeals Chamber, with judges Pocar and Liu dissenting, acquitted Sredoje Lukic of the abuse in the Uzamnica prison camp, but his conviction for aiding and abetting the killing of 53 persons in Pionirska Street was confirmed. Consequently, Sredoje Lukic's sentence was reduced from 30 to 27 years in prison.
Milan Lukic listened to the judgment with a cynical smile on his face; he was pretending to read a 'little red book' with a golden cross on the cover. Sredoje Lukic listened to the judgment with his head down.
A group of about 15 women, members of the association Women – Victims of War from Visegrad, attended the sentencing in the public gallery. The women applauded loudly when Milan Lukic's life sentence was confirmed.