Home
MILITARY COURTS WERE IN CHARGE OF PROSECUTION
Hadzic's defense witness Vojin Susa claims that the Krajina judiciary had 'limited' jurisdiction. In almost all of the cases, proceedings were conducted by the army proceedings, the former justice minister in Hadzic's government argued. The court heard about the minister's knowledge of the Red Berets unit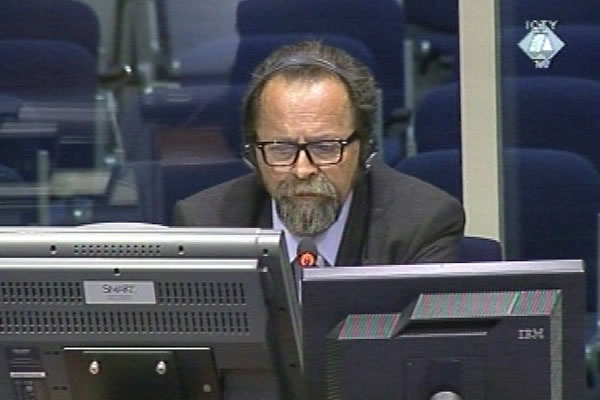 Vojin Susa, defence witness at Goran Hadzic trial
At the end of the examination-in-chief, Vojin Susa claimed that the jurisdiction of the Krajina judiciary was 'very limited'. As the former justice minister in the SAO Eastern Slavonia government explained, the army had an 'imperative order' to 'take charge of the prevention, preliminary investigation and investigation of crimes and to conduct court proceedings in almost all of the cases'. 'We couldn't oppose it', Susa said. Hadzic's justice minister also noted that this situation remained in place until the army withdrew in May or June 1992.
Susa denied the allegations made by Bogdan Sladojevic and Mile Novakovic, high-ranking JNA officers, published in the Politika newspaper, that Goran Hadzic established the Red Berets unit, and that Vojin Susa exercised command over it. The claims were a 'provocation' aimed at Goran Hadzic, the witness explained, and Novakovic denied it the same newspaper very next day. Susa said that the unit had been established by the Serbian State Security Service in 1991. It was stationed in the Pajzos area, near Ilok. The unit had at its disposal 'best-quality equipment for in-depth field observation' and was concealed. The unit secured Tito's 'hunting lodge' where they were stationed and didn't participate in any operations, the witness claimed.
Prosecutor Matthew Olmsted started Susa's cross-examination with the same topic. He put it to Susa that the Red Berets unit did commit crimes against the non-Serbs in Western Srem. The witness remained adamant that the unit members didn't take part in combat. He never received official information about any criminal proceeding against them. Susa claimed that he didn't know about the allegations in an UNPROFOR report from January 1993 that the Red Berets unit controlled Ilok and threatened local Croats. Susa denied that the Red Berets members under his supervision searched the Catholic church in Ilok in February 1993.
The prosecutor put it to the witness that Susa and Goran Hadzic had been and remained friends ever since the high school days. The witness confirmed it, adding that after Hadzic's arrest he met with defense lawyers to discuss the case.
Before hearing drew to a close, the prosecutor addressed the issue of the laws in force in the SAO Slavonia, Baranja and Western Srem and later in the Republic of Serbian Krajina. Susa confirmed that until their own legislation was passed, the laws of the SFRY and Serbia were in force. The prosecutor suggested that in line with National Defense Act, the Territorial Defense was separate from the JNA and police. Susa contradicted the claim. 'When war operations begin, the Territorial Defense functions under the command and as part of the army', the justice minister clarified. Susa made the same claim in the examination-in-chief. As alleged by the prosecutor, the Territorial Defense units were under the control of the SAO Eastern Slavonia prime minister Goran Hadzic. Vojin Susa's cross-examination continues tomorrow.