Home
JUDICIAL PRIORITIES
The prosecutor used a series of documents issued by the public prosecutor's office in Vukovar to prove that the priority of the judiciary in the SAO Slavonia, Baranja and Western Srem, and indeed in the Republic of Serbian Krajina, was to prosecute war crimes, and in particular genocide, but only if it involved Serb victims. Former justice minister in Goran Hadzic's government Vojin Susa claimed that there were 'more indictments against Serbs who committed crimes against Croats than vice versa'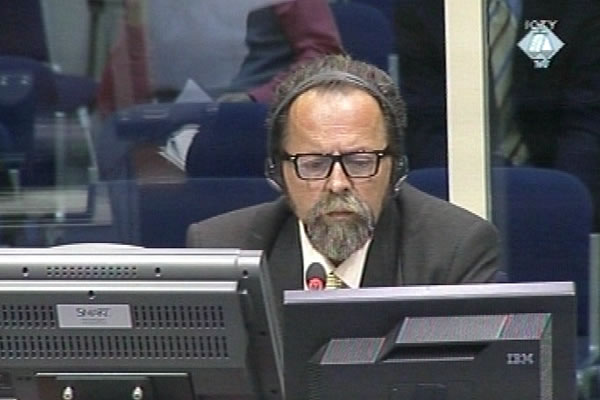 Vojin Susa, defence witness at Goran Hadzic trial
The prosecution continued cross-examining Vojin Susa, former justice minister in the SAO Eastern Slavonia and the Republic of Serbian Krajina. The prosecutor contested the witness's claims that Goran Hadzic's government had 'limited' jurisdiction. In the state of an imminent threat of war, the army had powers vested in it by the laws in force at the time.
Prosecutor Matthew Olmsted told the witness he had studied the Yugoslav Law on Military Courts, but he had not found any provisions extending the army's jurisdiction during the state of an imminent threat of war. The prosecutor quoted various articles of the law, suggesting that the military courts had jurisdiction only over crimes against the state or military forces, regardless of whether they were committed by military personnel or civilians. Consequently, Croatian prisoners of war were under the jurisdiction of military courts. However, there were exceptions, the prosecutor noted: civilian courts had jurisdiction if civilians and military personnel committed crimes as co-perpetrators. Susa explained that military investigative bodies handled all crimes committed in the territory of Eastern Slavonia.
The prosecutor went on to show several documents which indicate that military courts didn't institute criminal proceedings against local Serbs in the SAO SBZS for crimes against non-Serb civilians, except in a handful of cases. Such proceedings were under the sole jurisdiction of the civilian judiciary. Susa replied that the claim was 'incorrect, rough and untrue'.
In a bid to highlight the 'priorities' of the judiciary in the SAO Slavonia, Baranja and Western Srem, the prosecutor presented a memorandum dated 21 November 1991, demanding the submission of documents about the 'genocide against the Serb nation'. According to the prosecutor, the courts in SBZS and RSK issued indictments for the crime of genocide but only against non-Serbs, as evidenced by a series of documents from the Vukovar public prosecutor's office. Susa claimed that 'more indictments were issued against Serbs for crimes against Croats than vice versa'. Also, the witness added that he was 'not aware if any indictments for genocide were issued at all'.
The prosecutor also showed a letter sent by the witness to the 1st Military District Command on 27 November 1991, indicating that military courts had jurisdiction over persons who committed crimes against the armed forces but not over the perpetrators from Vukovar who were detained in Sremska Mitrovica for crimes against civilians. This, the prosecutor stressed, was the government's official view. The witness reluctantly agreed. Finally, the prosecutor put it to the witness that the judiciary bodies of the SBZS could have applied the same formula to Serbs who committed crimes against civilians. Susa accepted the suggestion, but insisted that the bodies had jurisdiction over all those who 'didn't wear uniforms, weren't members of the Territorial Defense and were not subordinated to the JNA'. 'The army arrested and prosecuted them and it decided on the jurisdiction', the witness concluded. Hadzic's justice minister continues his evidence on Monday.