Home
GOVERNMENT WITHOUT ANY DE FACTO OR DE JURE POWERS
Vojin Susa, justice minister in Goran Hadzic's government, claims that neither the prime minister nor other ministers had 'any de jure or de facto powers' to give orders to Zeljko Raznatovic Arkan and Radovan Stojicic Badza. Arkan and Badza were thus able to make independent decisions about military operations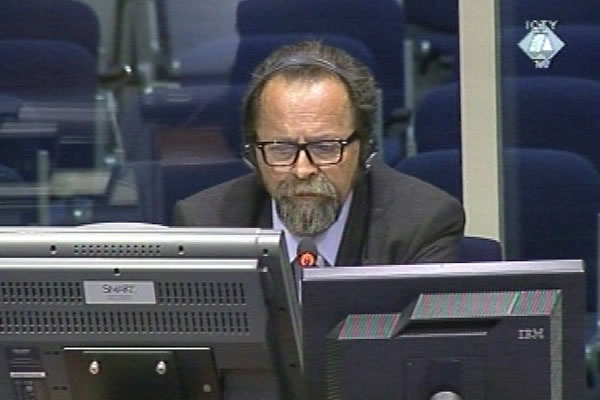 Vojin Susa, defence witness at Goran Hadzic trial
After a one-week break, the trial of Goran Hadzic continued today with the evidence of Vojin Susa. The witness was the justice minister first in the government of the SAO Slavonia, Baranja and Western Srem and then in the Republic of Serbian Krajina, from 25 September 1991 to April 1993.
At the beginning of his evidence, Susa talked about his experiences in 1991. Susa was arrested in his courtyard in Vinkovci on 9 July 1991 following a report that fire had been opened on the Croat road block in Mirkovci. About 30 members of the Croatian National Guard took Susa to the Dinamo football Stadium, where they beat him. They 'kicked and punched' him, telling him that he was the 'Chetnik who shot at them'. Susa's father and a family friend were also arrested. That same day they were taken to the police station and released. Later that same night, they took the first train out to Belgrade.Susa lost several teeth, he suffered two broken ribs and his palate was pierced in the incident.
Susa went on to describe his first contacts with Goran Hadzic, back in high school, when Hadzic had a 'teenage romance' with Zivka Nudic. Susa mentioned other persons identified in the indictment as members of the same joint criminal enterprise as Hadzic. According to Susa, he first met Radovan Stojicic Badza in August 1991 in Dalj when Susa returned to Croatia. Susa saw Zeljko Raznatovic Arkan for the first time not long after that, in Erdut. As Susa explained, Badza was appointed the commander of the Territorial Defense of the SAO Eastern Slavonia on the orders from Serbia. From time to time, Badza would attend the government meetings but he didn't report to the government about military operations or future plans, Susa explained. Badza merely provided statistics about victims. When Arkan attended meetings, he was 'loud', and he would always quarrel with someone. But, as Susa noted, Arkan didn't give'any instructions or proposals to the government'.
Describing the relations between Badza and Arkan, Susa said that Badza was the 'only' man Arkan was in awe of. Also, Susa claimed that Arkan 'didn't ask anyone for permission' but took whatever he wanted, including the Edrut castle which he turned into a training camp. The government of the SAO Eastern Slavonia or its prime minister didn't have 'either de facto or de jure powers' to order Arkan or Badza to do anything or to stop them from doing what they wanted.
Susa quoted the regulations passed by the SAO Eastern Slavonia to confirmed the defense counsel's suggestion that the abandoned property 'was given' to those who remained in the SAO Eastern Slavonia 'for their use'. But, Susa continued, 'no one could end up owning something that hadn't been in their possession before the beginning of the conflict'. According to Susa, strict records were kept of such property.
Hadzic's justice minister continues his testimony tomorrow.