Home
HADZIC EXERTED 'LIMITED INFLUENCE' IN KRAJINA
Sergije Veselinovic, former president of the Obrovac municipality and minister for culture and religion in the RSK government, said in his evidence that Goran Hadzic exerted 'little, limited influence' over the political developments in Krajina. According to Veselinovic, Milan Babic and Krajina 'Gauleiter' Milan Martic held the upper hand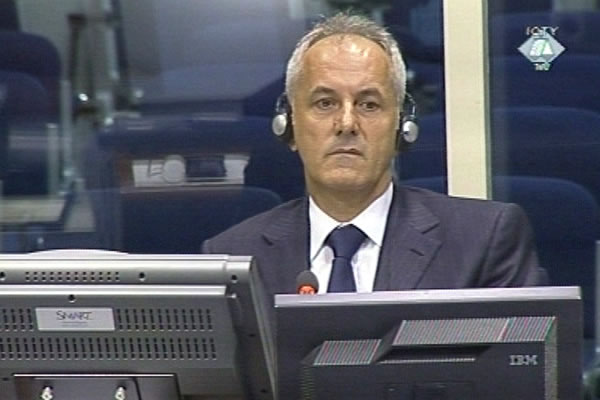 Sergije Veselinovic, defence witness at Goran Hadzic trial
Sergije Veselinovic began his evidence at the trial of former Serb leader in Croatia Goran Hadzic. Veselinovic was the president of the Obrovac municipality and the minister for culture and religion in the Republic of Serbian Krajina from the spring of 1992 to April 1993. In his statement to the defense Veselinovic claimed that Hadzic exerted 'little, limited influence' on the political developments in Krajina.
Hadzic didn't spend much time in that area and rarely attended the RSK government meetings, the witness explained. According to Veselinovic, Milan Babic and Milan Martic were much more influential. In an interview to weekly magazine Duga in 1992 Veselinovic called Martic a 'real Gauleiter'.
Veselinovic went on to note that each municipality had a 'Territorial Defense brigade' under the control of the JNA. According to the witness, the municipal authorities didn't have any jurisdiction whatsoever over the Territorial Defense and police.
The witness said that the Serb autonomous region which later became the Republic of Serbian Krajina was established because of ethnic tensions. Veselinovic mentioned briefly the actions of the Croatian Army on the Miljevac plateau and in Maslenica. According to the witness, 'efforts were made to prevent crimes of the individuals' against the Croatian population. The crimes were 'definitely investigated', Veselinovic claimed. The motive for the incident in Bruska in whichtwo persons were killed was 'greed',the witness told the court. On two occasions, Veselinovic recounted, he asked Croats not to leave the territory of the Obrovac municipality, but economic reasons motivated some of them to leave.
The Republic of Serbian Krajina Army got the support of the Vukovi from Vucjak under the command of Veljko Milanovic and Zeljko Raznatovic Arkan's Serb Volunteer Guard, Veselinovic claimed. With the help of those units the RSK regained the 'hills that were of vital importance', Veselinovic recounted. He confirmed that the 'morale of the troops improved' when Arkan arrived in the area. However, Martic soon decided that Arkan and his volunteers were no longer welcome, added Veselinovic.
At the beginning of the cross-examination prosecutor Lisa Biersay noted that Veselinovic and Hadzic were 'old pals' as they greeted each other in the courtroom with a smile and nod. In fact, she said, when in 1993 Veselinovic was indicted for extortion and illegal possession of weapons, Hadzic intervened to get him out of detention. Veselinovic confirmed it, albeit reluctantly. The witness explained that he was sentenced to five months in prison but in the end he got probation. The prosecutor put it to the witness that he helped to organize 'militant groups' before the beginning of the conflict. Veselinovic denied it.The cross-examination continues tomorrow.