Home
TIME PRESSURE FOR APPEAL
At the status conference in the appellate proceedings, the defense teams of the former Herceg Bosna leaders expressed their concern over the short deadlines for the submission of their appeals. The defense lawyers stressed that they were all 'under a great deal of pressure'. Prlic, Stojic, Praljak, Petkovic and Coric didn't have any complaints about the conditions in the detention while Pusic was granted provisional release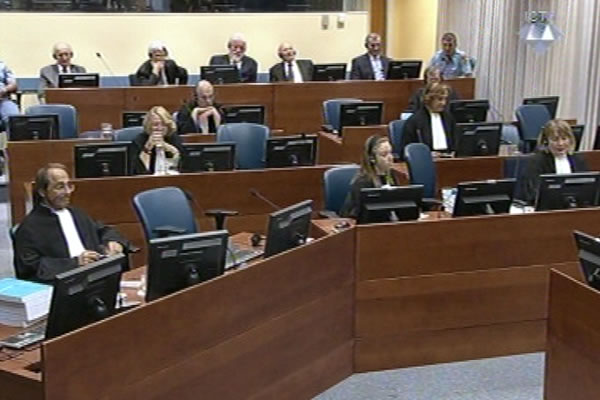 Jadranko Prlic, Bruno Stojic, Slobodan Praljak, Milivoj Petkovic, Valentin Coric in the courtroom
A status conference in the case against former Herceg Bosna leaders Jadranko Prlic, Bruno Stojic, Slobodan Praljak, Milivoj Petkovic, Valentin Coric and Berislav Pusic was held today at the Tribunal. Five of the accused attended the status conference; only Berislav Pusic was on provisional release, granted by the Trial Chamber.
The accused Prlic, Stojic, Praljak, Petkovic and Coric didn't have any complaints about the conditions in the detention unit or their health. Their lawyers did express their concern over 'short deadlines for the submission of the appeals'. Prlic's lawyer Michael Karnavas said that they were all 'under a great deal of pressure'. Stojic's defense counsel Senka Nozica stressed that the accused wanted to participate in the drafting of the appeals but couldn't do so because they still had not received the translation of the judgment into Croatian.
The judgment was written in French and its English translation was provided to the defense teams on 6 June 2014. Judge Theodor Meron expects the Croatian translation to be finished by the end of September 2014. Pursuant to the Tribunal's rules, the lawyers of the accused have two months from the date of the receipt of the English translation of the judgment to submit their appeals. All the defense teams and the prosecution have petitioned the Chamber to extend the deadline for the submission of the appeals and responses.
The Trial Chamber led by French judge Antonetti sentenced the six former Bosnian Croat leaders on 29 May 2013 to a total of 111 years in prison for the crimes committed in Herceg Bosna in the period from 18 November 1991 (when the entity was established) to the end of the conflict in April 1994. The trial began in April 2006 and lasted five years, until March 2011. The judgment written on 2,629 pages arrived two years later, and its English translation a year after that. According to the Tribunal's current timetable, the appellate hearing is expected to take place in mid-2016, and the final judgment will be handed down in June 2017.