Home
PRALJAK DEFENDS PRALJAK
At a status conference in the appellate proceedings in the case against six former Herceg Bosna leaders, Slobodan Praljak represented himself. The trial judgment will be translated from French into English in June, and into Bosnian/Croatian/Serbian in September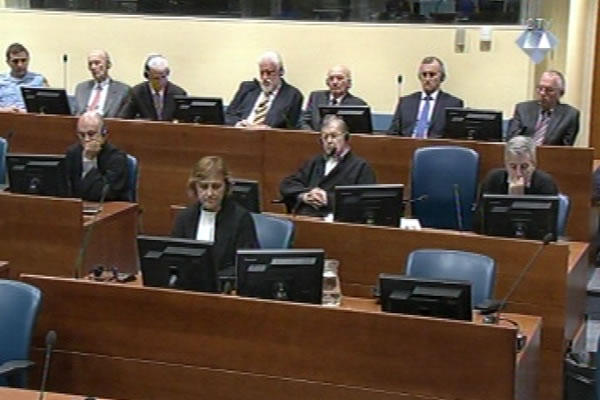 Bruno Stojic, Milivoj Petkovic, Valentin Coric, Berislav Pusic, Jadranko Prlic and Slobodan Praljak in the courtroom
A regular status conference was held today in the appellate proceedings in the case against six former Herceg Bosna leaders. Four of the accused: Bruno Stojic, Milivoj Petkovic, Valentin Coric and Berislav Pusic were accompanied by their defence lawyers Senka Nozica, Vesna Alaburic, Drazen Plavec and Fahrudin Ibrisimovic. Jadranko Prlic's defense counsel Michael Karnavas followed the hearing via video-link from Cambodia. Slobodan Praljak was in court for the first time without a legal representative.
'Slobodan Praljak representing Slobodan Praljak', the former Chief of the HVO Main Staff said when the presiding judge Theodor Meron asked him who was representing him. Praljak intends to represent himself in the course of the appellate proceedings. He has been ordered recently to repay the 2.8 million euros he received from the Tribunal's legal aid fund to finance his defense and now he has dismissed the defense lawyers who represented him pro bono after the trial judgment was handed down last may, purportedly because he does not have any money to pay for his defense.
The first thing Praljak did today was to try to hand to the presiding judge of the Appeals Chamber a sheet of paper with the objections to the decision dismissing his motions to have a defense counsel appointed to him, and to stay the proceedings until he has received the translation into BCS of the trial judgment and all the documents relevant for the appellate proceedings. He failed. Judge Meron remarked that it would be more appropriate for Praljak to submit his objections to the Chamber in 'proper format', i.e. as a formal motion.
Prosecutor Douglas Stringer indicated that all the relevant documents would in future be disclosed directly to Praljak, as is the usual practice in cases when an accused represents himself. After Praljak stated he would agree to take receipt only of documents in BCS, the prosecutor noted it would not be a problem at this point in time, but might cause problems in future, since the accused has asked for the translated versions of all the documents, including transcripts and final briefs.
When Stojic's defense counsel Senka Nozica asked when the trial judgment would be translated, Judge Meron said that according to the provisional schedule, the translation into English should be finished in June and into BCS in September.Nozica would like to have both versions to be completed at approximately the same time in order for the accused to be able to take an active part in the drafting of appellate briefs. The parties must submit their appellate briefs 60 days from the date of the receipt of the trial judgment in English.