Home
ALL QUIET IN THE CASE AGAINST FORMER HERCEG BOSNA OFFICIALS
The appellate proceedings in the case against former Herceg Bosna officials continue as scheduled. The appeals were filed in January 2015, and the responses and rejoinders were filed in May 2015. The judgment is expected in mid-2017. The appellate hearing will be scheduled later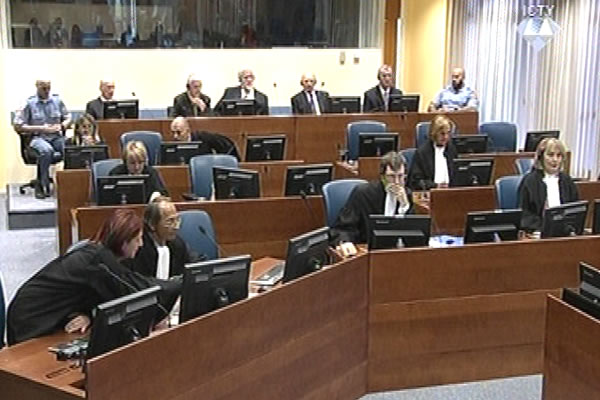 Jadranko Prlic, Bruno Stojic, Milivoj Petkovic, Slobodan Praljak i Valentin Coric in the cortroom
The status conference in the appellate proceedings against former Herceg Bosna officials today lasted a total of 12 minutes, as long as it took the parties to present themselves, the accused to make a brief address to the judge and the judge to deal with administrative issues.
Presiding judge Theodor Meron invited the accused to state if they had any health problems or complaints about the conditions in the Detention Unit. Jadranko Prlic, Bruno Stojic, Slobodan Praljak and Valentin Coric stated that 'everything is alright'. Milivoj Petkovic's address was redacted later and deleted from the hearing's transcript. Berislav Pusic, the sixth accused, was released previously for humanitarian reasons pending the finality of the sentence, and has waived his right to attend the hearing.
In May 2013, the Trial Chamber rendered the judgment convicting the former Herceg Bosna leaders for the crimes committed during the Croat-Muslim conflict in BH in 1993 and 1994. Former Herceg Bosna prime minister Jadranko Prlic was sentenced to 25 years. Defense minister Bruno Stojic and HVO commanders Slobodan Praljak and Milivoj Petkovic got 20 years in prison each. Military police commander Valentin Coric was sentenced to 16 years, and Berislav Pusic, the head of the HVO office for the exchange of prisoners, got 10 years in prison. The parties submitted their appellate briefs in January 2015 and confidential responses were submitted in May 2015. By 9 September 2015, the parties have to submit redacted, public versions of the documents. The appellate hearing has not been scheduled yet. According to the latest scheduling order, the final judgment in this case is expected in mid-2017.