Home
NEW APPELLATE JUDGE FOR HERCEG BOSNA LEADERS
Maltese judge Carmel Agius, the Tribunal's new President, was appointed the presiding judge of the Appeals Chamber hearing the case against six former Herceg Bosna leaders. The appellate proceedings continue, but the appellate hearing hasn't yet been scheduled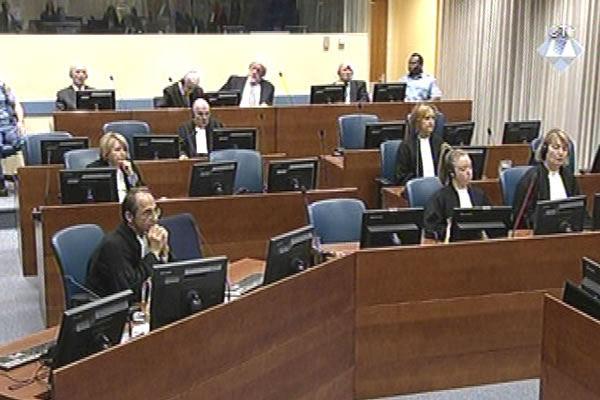 Jadranko Prlic, Bruno Stojic, Slobodan Praljak i Milivoj Petkovic in the courtroom
The only news disclosed at the status conference in the appellate proceedings against former Herceg Bosna leaders was that Carmel Agius would join the Appeals Chamber. Judge Agius has recently been appointed the President of the Tribunal. After the parties presented themselves as usual, Judge Agius introduced himself, stating that on 17 November 2015, he was appointed the ICTY President in a plenary session and became the presiding judge in the Herceg Bosna appellate proceedings.
Of the six accused, two did not attend the status conference. Berislav Pusic had been granted provisional release on humanitarian grounds and Valentin Coric had waived his right to attend the hearing. Jadranko Prlic, Bruno Stojic, Slobodan Praljak and Milivoj Petkovic didn't have any comments on their health or the conditions in the Detention Unit. Berislav Pusic's counsel, who followed the status conference via video link from Sarajevo, called for the proceedings to go into closed session while he discussed his client's health.
In May 2013, the Trial Chamber found the former Herceg Bosna leaders guilty of the crimes committed during the Croatian-Muslim conflict in BH in 1993 and 1994. Jadranko Prlic, former Herceg Bosna prime minister was sentenced to 25 years. Defense minister Bruno Stojic and HVO commanders Slobodan Praljak and Milivoj Petkovic got 20 years in prison each. Military police commander Valentin Coric was sentenced to 16 years while Berislav Pusic, head of the HVO office for the exchange of prisoners, got a 10-year sentence.
Judge Agius informed the parties that there were no pending public motions while several confidential motions were being considered. Yet again, the appellate hearing was not scheduled. The presiding judge told the parties that 'the appellate proceedings in this case are a top priority' during his term of office.'As soon as I manage to organize a team working on the appeals I will take care that everything goes on according to schedule', Judge Agius explained.
According to the last official scheduling order, the appellate hearing should take place in August 2016. The appeals judgment is expected in June 2017. It remains to be seen if the Appeals Chamber will be able to bring to a close such a large case, including the appeals filed by the six accused and the prosecution, on schedule.