Home
WILL SESELJ BE GRANTED PROVISIONAL RELEASE PENDING JUDGMENT?
Last week, the Trial Chamber invited the prosecution and Vojislav Seselj to answer the question whether the accused Serbian Radical Party leader should be granted provisional release pending the judgment in his case. Will Seselj ask Aleksandar Vucic's government to provide guarantees?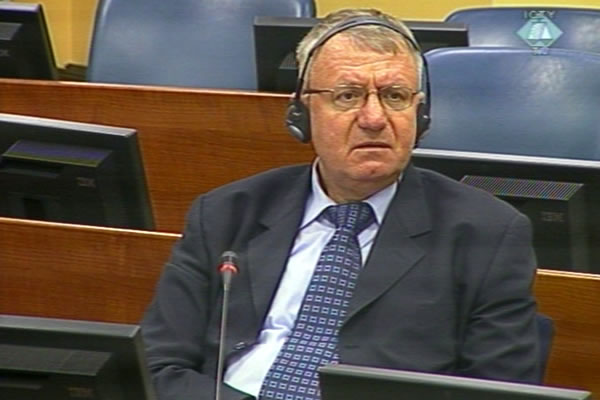 Vojislav Seselj in the courtroom
Last Friday, the Serbian Radical Party's press office disclosed the invitation issued by Judge Antonetti's Trial Chamber to the prosecution and the accused Vojislav Seselj on 13 June 2014. The Tribunal made the invitation public today, three days later. The parties were given seven days to submit their opinion on whether or not the accused Serbian Radical leader should be provisionally released pending his judgment.
In the document, the Chamber notes that Judge Niang has indicated he might need additional time to acquaint himself with the evidence admitted at the trial in order to be able to take part in the deliberations with judges Antonetti and Lattanzi. In late 2013, Judge Niang replaced Judge Harhoff who had been disqualified on Seselj's request. At the moment, as noted in the document made public today, it is impossible to foresee when the judgment will be rendered. According to the Trial Chamber, this means that the requirements for the provisional release of the accused have been met. The accused has been in the Detention Unit since February 2003 and in the meantime has served all the sentences he received for contempt of court.
Given that he surrendered voluntarily, the accused is entitled to seek provisional release. However, upon his arrival in The Hague Seselj was adamant that he would never apply for provisional release because it would have required him to seek and obtain the guarantees of the 'Quisling' Serbian government headed by Zoran Djindjic. Things have changed quite radically recently, because Seselj's former close associate from the Serbian Radical Party, Aleksandar Vucic, is now the prime minister. It remains to be seen if Seselj will change his mind by Friday and seek Vucic's guarantees.
Vojislav Seselj is on trial for crimes against humanity committed from 1991 to 1995 in Croatia, Vojvodina and Bosnia and Herzegovina. The Trial Chamber was slated to hand down the judgment on 30 October 2013. The judgment has been postponed until further notice after Seselj's motion to disqualify Danish judge Frederik Harhoff for purported bias was granted. Judge Harhoff was on the Trial Chamber hearing Seselj's case.