Home
JUDGES DENY SESELJ'S DEMAND FOR HIS TRIAL TO END
The Appeals Chamber today denied Vojislav Seselj's motion in which he called for the proceedings against him to be terminated and for his urgent release. Alternatively, he demanded a re-trial. Judge Afande dissented from the majority decision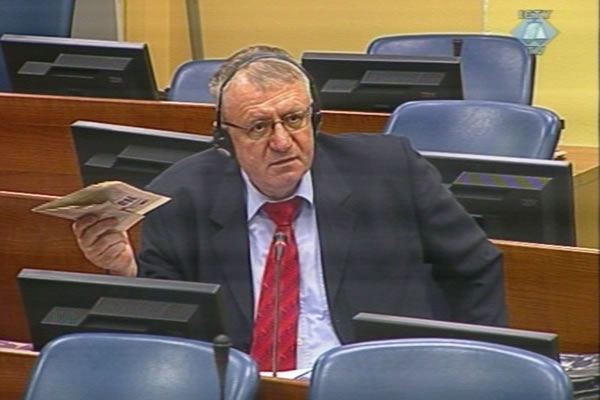 Vojislav Seselj in the courtroom
The majority in the Appeals Chamber, Judge Afande dissenting, dismissed Vojislav Seselj's motion against the Trial Chamber's decision to continue his trial. In December 2013, the Trial Chamber decided that after the disqualification of Danish judge Harhoff and appointment of Judge Niang from Senegal the trial should continue at the point where it stopped, with the parties' closing argument.
In his motion against that decision, Seselj called for the termination of the proceedings against him and his urgent release, or alternatively for a re-trial. Seselj argued that the Trial Chamber's decision had no legal basis. The rules allow for a trial to continue only if the reserve judge has been following the trial since the start, or with the permission of the accused. In this case, the accused has not given his permission. As the accused also noted, his right to an expeditious trial has been violated. It was unfair for him to remain in custody in the Detention Unit while Judge Niang familiarized with the case because it could last forever. In the prosecution's view, Seselj failed to show the errors in the Trial Chamber's reasoning. The prosecution recalled that the 'justice requires that a fair and expeditious judgment be handed down'.
The majority in the Appeals Chamber concluded that the Trial Chamber didn't err when it required that the new judge familiarized himself with the case before the judges withdrew to deliberate the judgment; the new judge needed time to go through the video recordings of the evidence and to asses the witnesses' credibility, and if he thought it necessary to call some of the witnesses for re-examination. In the majority's view, Seselj's rejection of the Trial Chamber's decision wasn't enough to support a claim that judges abused their authority.
Judge Afande appended his dissenting opinion, noting that the Trial Chamber erred when it ordered the proceedings to continue. According to the Togolese judge, the judges have had two options, to order a re-trial or to terminate the proceedings and release Seselj. The arguments spoke in favor of the second option, Judge Afande noted. The only thing that should be dismissed in the motion was Seselj's demand for damages to the tune of 12 million Euros.
Now that the Appeals Chamber has rendered its decision, all legal obstacles have been removed and the trial of Vojislav Seselj may continue. The decision was made by presiding judge Sekule from Tanzania, German judge Flugge, Judge Ramaroson from Madagascar and Pakistani judge Kan. Seselj's judgment was originally due on 30 October 2013 but was postponed until further notice to allow the new judge to familiarize himself with the case.