Home
ENGLISH TRANSLATION OF HERCEG BOSNA JUDGMENT TO BE FINISHED IN JUNE 2014
The six former Herceg Bosna leaders received their trial judgment in late May 2013. The translation from French into English will not be finished before June 2014. After that, the defense teams will have 60 days to file their appeals. Slobodan Praljak still contends that he has no money to reimburse 2.8 million Euros the Tribunal has paid for his defense. According to Praljak, the Registry has conducted a 'determined campaign with unbelievable amount of lies' against him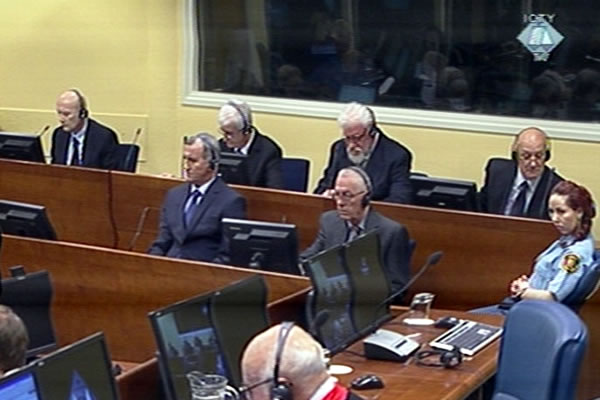 Jadranko Prlic, Bruno Stojic, Slobodan Praljak, Milivoj Petkovic, Valentin Coric i Berislav Pusic in the courtroom
A status conference was held at the Tribunal in the case against former Herceg Bosna leaders – Jadranko Prlic, Bruno Stojic, Slobodan Praljak, Milivoj Petkovic, Valentin Coric and Berislav Pusic. The accused didn't have any complaints as to the conditions of their detention and their health. The defense lawyers were keen to learn when the translation of the trial judgment would be completed. The judgment is in French, and has about 4,500 pages.
The Trial Chamber, led by the French judge Antonetti, rendered the judgment on 29 May 2013, sentencing the six former Bosnian Croat leaders to a total of 111 years in prison for the crimes in Herceg Bosnia in 1993 and 1994. From the moment they receive the English translation of the judgment, the lawyers of the accused have two months to file their appeals.
According to Theodor Merion, the presiding judge in the Appeals Chamber, the translation of the trial judgment into English should be completed no later than June 2014. Judge Merion has promised he will make sure that the accused will receive a Croatian version, if not at the same time, then very soon afterwards. The accused who don't speak English will thus be able to participate in the appellate proceedings.
The Appeals Chamber will consider forthwith the Registry's request to order the accused Praljak to pay back 2.8 million Euros to the Tribunal. This is the amount Praljak's defense team got from the legal aid. Also, the Appeals Chamber will take into consideration the motions the accused has filed in response to the Registry's request, challenging the findings of the investigation of his financial status. Praljak accused the ICTY Registry of conducting a 'determined campaign with incredible amount of lies' against him.
The next status conference in the case against the former Herceg Bosna leaders will be held within 120 days, in line with the Rules of Procedure and Evidence.