Home
PRALJAK'S MOTION FOR ASSIGNMENT OF COUNSEL AND STAY OF PROCEEDINGS DENIED
The Appeals Chamber has rejected Slobodan Praljak's motion in which he petitioned the court to assign counsel to him 'in the interest of justice'. Alternatively, Praljak asked for a stay of proceedings until he received the translation of the trial judgment and other documents in order to be able to represent himself in the appellate proceedings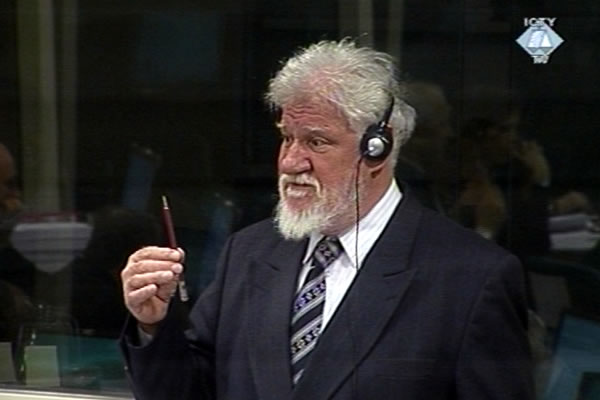 Slobodan Praljak in the courtroom
Judge Theodor Meron's Appeals Chamber has rejected the motion filed by Slobodan Praljak in October 2013. Praljak asked the judges to assign counsel to him at the Tribunal's expense in line with Rule 45 ter or to suspend the proceedings against him until he has received 'in the language he understands' all the relevant documents, including the trial judgment, rendered in May 2013. Praljak was sentenced to 20 years for crimes committed in Herceg Bosna.
In the summer of 2013, the Registry decided not to fund Praljak's defense, having determined that the accused was not indigent as he had claimed. The enquiry showed that Praljak was worth at least 6.456 million euros, and he was consequently ordered to pay back 3.293 million euros the Tribunal paid over the past eight years to his defense team from the legal assistance fund.
In his motion for the assignment of counsel in October 2013 Praljak stated that he 'has no money' and that he had made a deal with attorneys Nika Pinter and Natasa Faveau Ivanovic, who agreed to represent him for a while pro bono but only in procedural matters. In light of the complexity of the appellate proceedings Praljak asked the judges to assign counsel to him 'in the interest of justice' in line with Rule 45 ter, which deals with the accused who want to represent themselves but are not able to.
As the Appeals Chamber denied Praljak's motion for the assignment of counsel, it concluded that in the first place, Praljak does have legal counsel at present: lawyers personally chosen by Praljak represent him under conditions he has personally negotiated. Secondly, the judges stressed, even if in the future he decides to defend himself, Praljak will not be entitled to free legal representation in line with Rule 45ter because it has been determined that he has sufficient means to pay his lawyers.
The Appeals Chamber also rejected Praljak's motion for a stay of proceedings until he has received 'in the language he understands' the following documents: the judgment against him and five other former Herceg Bosna leaders, handed down on 29 May 2013, the notice of appeal against the judgment filed by Praljak's lawyers while they were paid by the Tribunal, the prosecution's notice of appeal, other briefs submitted by the parties in the appellate proceedings and the full transcript of the trial since April 2006. In the decision, the judges note that Praljak's degree of knowledge of French and English has not yet been formally determined. The question might become relevant if Praljak decides to represent himself. Since Praljak hasn't decided to do it yet, his motion for a stay of the proceedings is premature, the judges explained.