Home
PRALJAK ORDERED TO SETTLE DEBT TO THE TRIBUNAL
The Appeals Chamber has ordered Slobodan Praljak to pay 2.8 million Euros within 90 days or alternatively, to settle the debt in monthly installments over a three-year period. The amount was paid from the legal aid fun to Praljak's defense team during the trial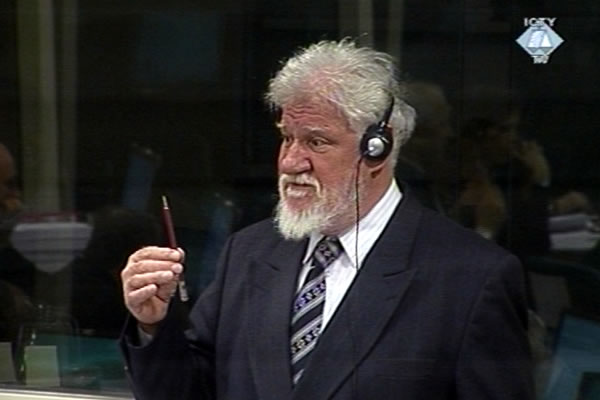 Slobodan Praljak in the courtroom
Judge Meron's Appeals Chamber has ordered Slobodan Praljak to pay 2.8 million Euros within 90 days to the Tribunal. The money had been paid to Praljak's defense team to cover their costs during the trial. Alternatively, Praljak may pay the debt in installments over the next three years. If Praljak chooses the second option, he has to pay the first installment of 280,000 Euros, 10 per cent of the total debt, within 90 days. After that, Praljak will have to pay 70,000 Euros every month, on the first of the month.
The Appeals Chamber has issued the order following a motion filed by the Tribunal's Registry. After a comprehensive investigation in several countries, including the countries of the former Yugoslavia and in Germany, in 2012 the Registry established that Praljak was not indigent, as he had claimed. On the contrary, the Registry's investigation confirmed that Praljak had a disposable income of at least 6.4 million Euros and could have used the money to pay for his defense. The Tribunal's President Meron thus confirmed the Registry's request to Praljak to pay back the money he had received to pay his defense counsels. President Meron rejected all motions of the accused for the review of the case.
Praljak has already made claims that the orders to pay the debt are'without any purpose or effect'since he simply did not have the money, and the Registry and the Tribunal's President have already dismissed them several times, the Appeals Chamber stressed in its decision. Praljak has had a number of occasions to prove that he wasn't able to pay the expenses of his defense. Instead of using the opportunities, Praljak refused to give the necessary information and to respond to the Registry's findings on his financial status.
The Appeals Chamber stated in its decision that Praljak
'
is not at liberty
'
to contest the Registry
'
s finding about him having enough money to pay for his own defense. President Meron confirmed the finding was 'reasonable
'
. As Praljak failed to produce any valid arguments, the Appeals Chamber ordered Praljak to pay the debt. Also, the Appeals Chamber ordered the Registry to take all necessary measures to implement the order.