Home
THEY KNEW, BUT REFUSED TO BELIEVE
Although the local Serbs knew about the mass killings at Ovcara by early December 1991, they refused to believe the reports were true, because they were detrimental to the 'negotiation efforts'. As Witness GH 169 said, 'I don't believe that the top echelons allowed' the expulsion of non-Serbs". Nevertheless, the witness said that the government of the Serb Autonomous Region of Slavonia, Baranja and Western Srem failed to do anything to prevent the expulsion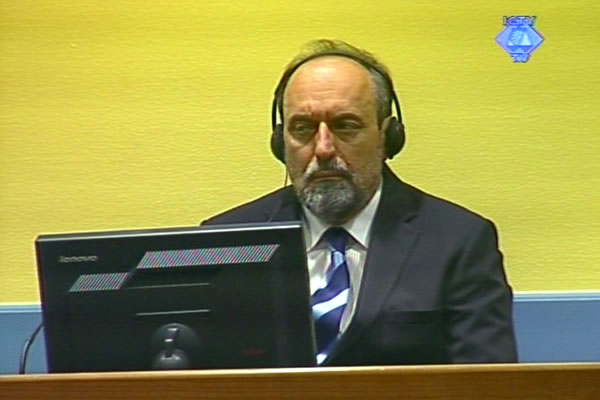 Goran Hadzic in the courtroom
Witness GH 169 continued his testimony at the trial of former prime minister of the Serb Autonomous Region of Eastern Slavonia, Goran Hadzic. The witness claimed that the local Serbs 'knew about the killings in Ovcara' some ten days after the incident, but 'they didn't believe that our side was responsible for the mass execution'. Witness GH 169 is testifying under a pseudonym and with image and voice distortion to protect his identity. He mostly spoke about the judicial system in Eastern Slavonia and later in the self-proclaimed Republic of Serbian Krajina.
As the witness said, they found the information about the mass execution 'stupid' because such actions could have 'harmed us in the negotiation process'. It was only when UNPROFOR arrived and the area was sealed off that the witness realized the reports received from the district attorney were true. The rest of the examination-in-chief and the cross-examination again proceeded in closed session, as was the case the day before.
In a part of his testimony, Witness GH 169 said that in late October 1991 he heard the rumors that Croats would be evicted from Dalj. However, the families in the village were ethnically mixed and about 100 locals gathered to protest against the expulsion; they were able to temporarily postpone the exodus. Seven days later, the people were 'loaded on trucks' and taken to Croatia, the witness explained.
When the prosecutor asked if the expulsion was a spontaneous thing or had been organized, the witness replied it was impossible to expel people spontaneously. As he insisted, the local bodies, the police, local communes and military services had to 'participate in that process or at least tolerate it'. The witness "doesn't believe" that the government of the SAO Slavonia, Baranja and Western Srem "allowed the expulsion of non-Serbs" but they also "didn't do a thing to prevent the expulsion".
In the part of the cross-examination open to the public, the witness said that the judicial bodies simply did not have the wherewithal to investigate and try hundreds of prisoners of war. The defense counsel asked the witness how many people Goran Hadzic had in mind when he said in an interview that the SAO of Eastern Slavonia would try 'the captured Ustashas that have blood on their hands'. 'I can't read minds', the witness said, but surely 'he didn't mean just a few persons'.
Goran Hadzic's trial for the crimes in Eastern Slavonia and the Republic of Serbian Krajina from June 1991 to the end of 1993 continues next week. The prosecution is expected to rest its case soon.