Home
'GORAN, DON'T BEAT HIM NO MORE`
In his evidence at Goran Hadzic's trial, witness Ljubo Pribudic noted ironically that he had had the 'honor' to be 'slapped by the Krajina president' during his detention in a prison camp in Sremska Mitrovica, in Serbia. The beatings stopped only when a guard intervened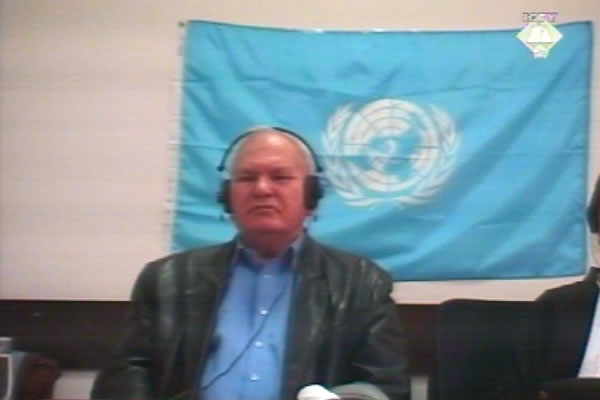 Ljubo Pribudic, witness at the Goran Hadzic trial
Until the fall of Vukovar on 18 November 1991, Ljubo Pribudic was fighting to defend it. Then, as Pribudic recounted today in his evidence at the trial of Goran Hadzic, the soldiers came and took him to the so-called 'room of death' in the Velepromet warehouse. Pribudic testified from Osijek via video link with the courtroom in The Hague.
In Velepromet, Pribudic was taken to a room where there were more than 200 people. It was 'unbearable' there, Pribudic said. After midnight, the first prisoners were taken out. 'Those who went out were gone forever', the witness explained, adding that he saw a body of a 'man who had been killed, just lying there dead' near a railway track that ran close to the warehouse.


The next day, on 19 November 1991, the witness was taken out of the warehouse. As Pribudic said, 'I was beaten senseless, until I fainted'. The witness managed to hold the edges of the wounds on his head with a make-shift clips he made using a tin can cover. After a brief stay in the JNA military barracks, on 20 November 1991 Pribudic was moved to the prison in Sremska Mitrovica, in Serbia. Pribudic remained there until April 1992.
On arrival in Mitrovica, the prisoners were ordered to lie face down on the ground and take off their shoes. Then, the beating began. The prisoners were beaten from 'their soles to the shoulders'. One prisoner died, and three or four fainted, Pribudic recounted. The witness claimed that Goran Hadzic himself beat him in Mitrovica. Hadzic entered the basement room where Pribudic was held several times. There, according to Pribudic, Hadzic slapped him, spat on him and swore at him. Only when a guard intervened, saying 'Goran, don't beat him no more', did Hadzic stop beating him, the witness maintained.
In the cross-examination, the defense counsel noted that before the war the witness hadn't known Hadzic. The witness saw Hadzic only once, on the bridge on the Vuka river and was able to identify him only because other people spoke about him by name, the defense counsel claimed. The defense counsel put it to Pribudic that he never reported to the authorities in Croatia that he 'had the honor to be slapped by the Krajina president', as he put it today in court. What had happened to him was 'water under the bridge' and he didn't want to revisit the events, Pribudic replied.
Ljubo Pribudic may be the last witness on the prosecution list, but we have been unable to confirm the information. After the prosecution rests its case, the defense will probably file a motion seeking Hadzic's acquittal on those counts it considers to be unproven. The defense case will probably begin in four months' time.