Home
REVOLT, PROPAGANDA AND WAR CRIMES TRIALS
A protected witness testified at Goran Hadzic's trial under the pseudonym GH 169. As he recounted, after the fall of Vukovar the tensions 'ran high because of the war propaganda on both sides'. 'There were precious few indifferent people and many were revolted' and it was 'difficult to imagine a proper and fair trial of the prisoners of war' in the Serb Autonomous Region of Eastern Slavonia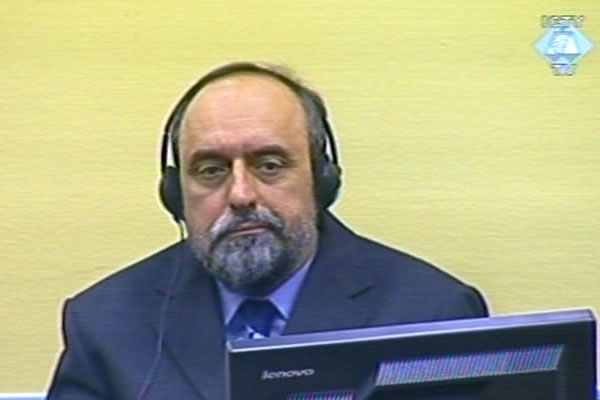 Goran Hadzic in the courtroom
The trial of the former prime minister of the Serb Autonomous Region of Slavonia, Baranja and Western Srem and the president of the so-called Republic of Serbian Krajina Goran Hadzic continued after a two-week break with the evidence of witness GH 169. The protected witness testified with image and voice distortion. Most of his evidence was heard in closed session.
In the period relevant for the indictment against Goran Hadzic, from June 1991 to the end of 1993, the witness's job was related to the judiciary in some way. In his questions, the prosecutor mostly focused on the organization and jurisdiction of municipal and higher courts and the powers of the supreme court. The prosecutor also asked about the role of pathologists, police, investigators, prosecutors and lay judges in various stages of criminal proceedings and about the laws that were in force in SAO of Eastern Slavonia and later the RSK. The witness said that all state authorities were obliged to report crimes and ordinary citizens had a moral obligation to do it.
In response to the prosecutor's questions, the witness confirmed that a Catholic church near the court building in Dalj was blown up with dynamite. The detonation broke the windows on the witness's office which was nearby. The church was big, and based on the damage to the structure, the witness concluded that there had to be 'a lot of explosives, crates and crates'. It was impossible to bring this quantity of explosives 'in a bag', the witness said. According to the rumors, 'Arkan's men' planted the explosive device.
The prosecutor showed the witness two documents dated 18 October 1991 that refer to crimes committed by Arkan's men against the non-Serbs. One of the documents was sent by the security service in the First Military District command to the Federal Secretariat of National Defense in Belgrade. The second document was sent by the Provincial SUP. The witness said that the rumors confirmed the reports about the crimes. The details of those two reports were not discussed in open session.
At the end of the hearing, Hadzic's statement after the government session held on 20 November 1991 in the Velepromet warehouse was played in court. Hadzic is heard saying that local Serbs in Vukovar would put on trial those who 'had blood on their hands' while the innocent would walk free. The witness said that military courts and military judicial bodies were in charge of trying prisoners of war, adding that the tensions in the SAO of Eastern Slavonia after the fall of Vukovar 'ran high because of the war propaganda efforts of both sides in that period'. 'There were precious few indifferent people and many were revolted' and it was 'difficult to imagine a proper and fair trial of the prisoners of war', the witness said. His evidence will continue tomorrow.