Home
SENT TO OVCARA ON ORDERS OF HADZIC'S GOVERNMENT
Jovan Sosic, former commander of the military police in the Guards Brigade in Vukovar, claims that about 200 wounded and sick people from the Vukovar Hospital were taken from the JNA military barracks to Ovcara after a decision had been made about their fate at a meeting of the government of the Serb Autonomous Region of Eastern Slavonia. The witness said that his commander Mile Mrksic had told him about the government meeting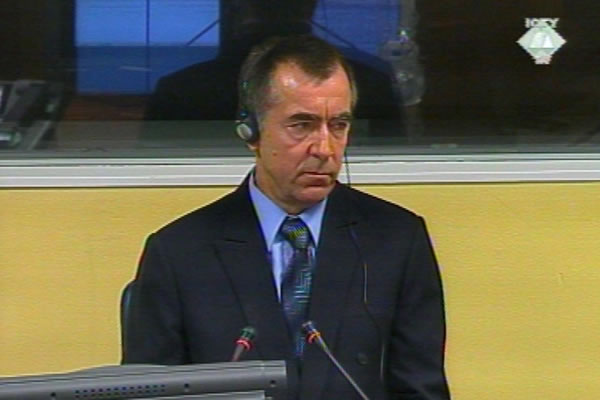 Jovan Sosic, witness at the Goran Hadzic trial
The trial of Goran Hadzic, former prime minister in theSerb Autonomous Region of Eastern Slavonia government, continued with the evidence of Jovan Sosic. In his evidence the former commander of the 1st Military Police Battalion spoke about the events in the Vukovar military barracks on 20 November 1991. The transcript of Sosic's testimony from the trial of Mrksic, Sljivancanin and Radic was admitted into evidence and the prosecutor asked Sosic just a few questions.
The witness confirmed that on 20 November 1991 between 10 and 11 am a military police company commander told him that in the JNA military barracks there were 'problems in securing the buses' in which the wounded and sick people had been brought in from the Vukovar Hospital. Sosic saw that armed members of the Serb Territorial Defense and volunteers had surrounded the buses calling out prisoners by name and accusing them of murder and arson.
Sosic claimed that after about 10 minutes he called the command of the 1st Guards Brigade in Negoslavci and reported these events to his commander, Mile Mrksic. Mrksic allegedly ordered Sosic to post additional guards around the buses until the end of the meeting of the Eastern Slavonia government, where the debate was underway about what to do about the buses.
At the Vukovar Three trial, Sosic said that at about 2pm a JNA colonel and a Territorial Defense captain came to the military barracks and took the buses in the direction of Negoslavci. The indictment alleges that the buses ended up at the Ovcara farm after Hadzic's government decided that the detainees would be tried in Vukovar. In the night of 20 November 1991, about 200 men were taken out of the hangar in groups of 10 to the execution site in Grabovo which was nearby. There they were executed and their bodies were thrown in a mass grave.
In the cross-examination, Hadzic's defense counsel Zoran Zivanovic contested the witness's claims that he had told Mrksic about the events in the military barracks. Zivanovic pointed that the government meeting was not in progress in given time. Sosic replied that Mrksic 'surely told him that'. The defense counsel went on to suggest that at the previous trial the prosecutor claimed that the witness knew the colonel's and captain's identity but kept it hidden. Sosic replied that 'had he known it then and now, he would immediately say it'. Hadzic's trial continues tomorrow with the evidence of the last prosecution witness. The witness will testify via video conference link.