Home
PROSECUTION RESTS CASE AT HADZIC TRIAL
After 180 hours, the testimony of 81 witnesses and more than 3,000 exhibits, the prosecution rests its case at the trial of former Krajina Serb leader Goran Hadzic. The defense will now have to indicate if it intends to call for the acquittal on the counts that have not been sufficiently proven, in their view. After that there will be a four-month break before the opening of the defense case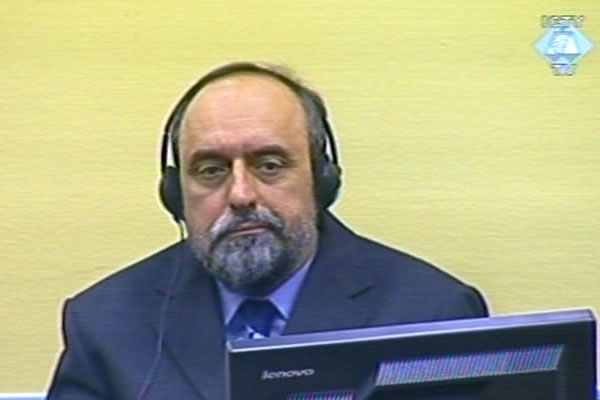 Goran Hadzic in the courtroom
The evidence of Ljubo Pribudic, completed on Thursday, marked the end of the prosecution case at the trial of Goran Hadzic, former prime minister in the government of the Serb Autonomous District of Slavonia, Baranja and Western Srem, who later became the president of the self-proclaimed Republic of Serbian Krajina.
The trial started on 16 October 2013 with the prosecution's opening statement. The prosecution team headed by Douglas Stringer spent 180 of the 185 hours it was allotted to examine 81 witnesses and tender into evidence more than 3,000 exhibits. From time to time it was difficult to follow the witnesses' testimonies as they often proceeded in closed session. For some witnesses, only their previous statements or transcripts were admitted into evidence followed by the short examination and it also made it difficult to follow the case.
It has not yet been announced if the defense team, lead by lawyer Zoran Zivanovic, will be filing a Rule 98 bis motion. This Rule in the Tribunal's Rules of Procedure and Evidence allows the defense to ask for the acquittal at the half-time of the trial on the counts in the indictment for which the prosecution, in the defense's view, has failed to call evidence that would result in a conviction. According to the Trial Chamber's decision issued in July 2013, the hearing on Rule 98 bis motion will take place seven days after the prosecution has rested its case and will go on for two days. The defense will then have four months to prepare its case.
Hadzic is tried by the Trial Chamber led by the Belgian judge Guy Delvoie. Other members of the Trial Chamber are Judge Burton Hall from Bahamas and Antoine Mindua from Congo.
After seven years in hiding, Hadzic was arrested in July 2011 in Fruska Gora in Vojvodina and was transferred to the UN Detention Unit in The Hague. Hadzic is charged in 14 counts in the indictment with participation in a joint criminal enterprise aimed at the permanent elimination of Croats and other non-Serbs from large parts of Croatia. The goal of the enterprise was to make those territories 'parts of a new state under the Serb domination'. Hadzic is charged with persecution, deportation, wanton destruction and looting of property, extermination, murder, detention, torture and cruel treatment of Croats and other non-Serbs in prison facilities at Ovcara farm, in Velepromet in Vukovar, in Erdut, Dalj and Borovo Selo. Some of the prison facilities were in Serbia, such as in the farms in the villages of Stajicevo and Begejci, the JNA military barracks in Zrenjanin and the military prisons in Sid and Sremska Mitrovica.